Following his win against BJ Penn at UFC on FOX 5, Rory MacDonald said he wanted to get a rematch against Carlos Condit in Montreal in March and the fight will now happen.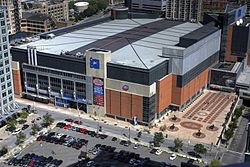 Both fighters have agreed to the bout, which is targeted to take place at the Bell Centre in Montreal on March 16th.
The news of the fight was reported by MacDonald on MMA Junkie Radio today and it was reported last night on "UFC Tonight" that Condit was down for the fight.
The two initially UFC 115 in Vancouver and Condit won the fight in the third round by TKO with seven seconds left in the fight. The fight won the fight on the night bonus and MacDonald said following his win over Penn that he felt humiliated by the lost.
Condit (28-6) is the former UFC interim welterweight champion and was defeated by Georges St-Pierre last month at UFC 154 by unanimous decision. Prior to the fight with St-Pierre, he was on a five five winning streak, which include wins over MacDonald, Dan Hardy and Nick Diaz.
MacDonald (14-1) is a trainer partner of St-Pierre at TriStar Gym in Montreal and is currently on a four fight winning streak since losing to Condit. He defeated Penn last Saturday night by decision and his previous two wins against Che Mills and Mike Pyle were both by TKO.
The UFC has not officially announced the March 16th date at time time in Montreal, but the official announcement could come in the next couple of weeks. The fight card from the Bell Centre may end up being headlined by welterweight champion Georges St-Pierre and his opponent could be former Strikeforce welterweight champion Nick Diaz.