The Ultimate Fighter 16 Finale takes place on Saturday in Las Vegas at The Joint inside the Hard Rock Hotel and Casino and the UFC has announced the broadcast schedule for the fight card.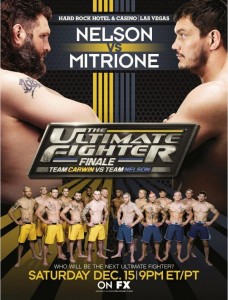 The preliminary card will begin at 5:35 pm ET on the UFC Facebook page with three fights and the final four fights on the preliminary card will be shown at 7 p.m. ET on FUEL TV.
Then the main card will begin at 9 p.m. ET on FX with five fights, which will feature the final of TUF 16 and be headlined by TUF 10 winner Roy Nelson taking on TUF 10 alum Matt Mitrione.
The full TUF 16 Finale card and broadcast schedule is below:
Main Card: (FX – 9 p.m. ET)
Roy Nelson (18-7) vs. Matt Mitrione (5-1)
Colton Smith (5-1) vs. Mike Ricci (8-2) *
Pat Barry (7-5) vs. Shane Del Rosario (11-1)
Melvin Guillard (47-12-3, 1NC) vs. Jamie Varner (20-7-1, 2NC)
Dustin Poirier (12-2) vs. Jonathan Brookins (14-5)
Preliminary Card: (FUEL TV – 7 p.m. ET)
Mike Pyle (23-8-1) vs. James Head (9-2)
Johnny Bedford (18-10-1) vs. Marcos Vinicius (20-4-1)
Vinc Pichel (7-0) vs. Rustam Khabilov (14-1)
TJ Waldburger (15-7) vs. Nick Catone (9-3)
Preliminary Card: (Facebook – 5:35 p.m. ET)
Reuben Duran (8-3-1) vs. Hugo Viana (6-1)
Mike Rio (8-1) vs. John Cofer (7-3)
Jared Papazian (14-8, 1NC) vs. Tim Elliot (8-3-1)
* – TUF 16 Final