The UFC will wrap up the 16th season of "The Ultimate Fighter" tonight at the Hard Rock Hotel and Casino in Las Vegas and Mike Ricci will attempt to become the first Canadian winner of the reality show.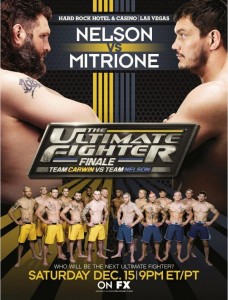 Today's fight card will begin with the preliminary card on the UFC Facebook page at 5:35 p.m. ET/2:35 p.m. ET with three fights.
The preliminary card will then move to FUEL TV at 7 p.m. ET/4 p.m. PT with four more preliminary fight and be headlined by a welterweight bout between Mike Pyle and James Head.
Then, the main card will begin at 8 p.m. ET/5 p.m. PT on FX with Roy Nelson meeting Matt Mitrione in the main event and Ricci facing Colton Smith in the finale of the reality show.
Roy Nelson (18-7) vs. Matt Mitrione (5-1)
Nelson was originally slated to face Shane Carwin, but Carwin had to pull out of the fight with an injury and Mitrione decided to step up and take the fight. Both Nelson and Mitrione were on season ten of the reality show and Nelson won the season.
Nelson has gone 4-3 in the UFC, with all his win his UFC wins by TKO/KO and three of those wins have come in the first round. He is one of only two UFC fighters (Carwin) to last all three round with Junior dos Santos.
This will be Mitrione's first fight since UFC 137 (10/29/2011), which was a lost to Check Kongo. He was scheduled to return at UFC on FOX 4, but the fight was canceled because of his opponents visa issues. This will be his first fight since joining the Blackzilians and he will be looking for his first win in 18 months.
This is a huge opportunity for Mitrione and is the biggest fight in his career. If Mitrione is able to pull off the upset victory, it's likely that he grinds out a decision victory. Nelson has one of the best chin's in the UFC and no one in the UFC has been able to knock him out.
Prediction: Roy Nelson by TKO in third round
Colton Smith (3-1) vs. Mike Ricci (8-2)
The is the final of TUF 16 in the welterweight division as both fighters will be looking to secure a six figure contract with the UFC. Smith is a wrestler and started his career with three straight victories. His only defeat came in his last bout before the reality show and was defeated by TKO in the second round.
Ricci will look to become the first Canadian winner of TUF and trains at TriStar Gym in Montreal. He is 2-2 in his last four fights with one of those losses coming against Pat Curran in Bellator.
Ricci will walk into the octagon tonight as the favorite and will have an advantage in the striking portion of the fight. Smith's best way to win tonight would be to take the fight to the ground and keep Ricci on his back.
Prediction: Mike Ricci by decision
Pat Barry (7-5) vs. Shane Del Rosario (11-1)

Barry has lost three of his last four fights and will be looking for his first win since the beginning of the year. In his last four fights, three of them have ended in the first round and he will look to get his 5th UFC victory tonight.
Del Rosario made his UFC debut earlier this year at UFC 146, but was defeated by Stipe Miocic. Just like Barry, his fights do not last long as 10 of his 12 career bouts have ended in the first round.
Both fighters will be looking for a quick finish in this fight and Del Rosario will have to stay away from the kicks of Barry. Del Rosario could look to take the fight to the ground, which is the weakness of Barry.
Prediction: Pat Barry via TKO in first round
Melvin Guillard (47-12-3, 1NC) vs. Jamie Varner (20-7-1, 2NC)
Last year, Guillard seemed to be getting close to a title shot in the UFC lightweight division but he has lost three of his last four fights and has fallen down in the rankings. He was knocked out by Donald Cerrone at UFC 150, which is a fight that he nearly ended in the opening minute of the fight.
Varner returned to the UFC earlier this year and pulled off an upset over Edson Barboza. He would then return at UFC on FOX 4, but he gassed out late in the fight and Joe Lauzon capitalized and got a submission victory.
Both fighters are heavy hitters and are always looking for a knockout. Varner has never been knockout in his career and Guillard's lost to Cerrone was the first time he suffered defeat by knockout. Expect these two fighters to stand in the middle of the octagon, trade strikes and cardio could be an issue for Varner.
Prediction: Melvin Guillard by decision  
Dustin Poirier (12-2) vs. Jonathan Brookins (14-5)
Poirier would look to work his way back up the rankings in the featherweight division after his lost earlier this year to Chan Sung Jung. It was his first lost in the UFC and his first defeat in two years.
Brookins won season 12 of TUF as a lightweight and immediately moved to the featherweight division. As a featherweight in the UFC, he has gone 1-2, with the losses coming against Erik Koch and Charles Oliveira.
Poirier should be able to control the fight no matter if it's on the feet or on the ground. He will have to watch out for the submissions of Brookins, but he should be able to walk away with a victory.
Prediction: Dustin Poirier by submission in second round