After a longer than usual break, the UFC returns to Las Vegas today to present its year-end card. Headlining the card is a heavyweight title match between the best two guys in the division: Cain Velasquez and the returning champion, Junior dos Santos.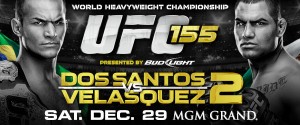 This is a rematch of their previous effort from last November, where Dos Santos beat the seemingly unstoppable Velasquez to claim the heavyweight title. Since the fight, there have been details put out concerning injuries to both parties during the first affair. It was also over in barely over one minute.
This is a new fight, with new dynamics concerning it, and needs to be treated differently than the previous fight.
Backing up this stellar main event is a solid main card, mostly filled up with semi-contenders in the middleweight division.
In this column, we will look at some of the issues at play when selecting good sides to bet and try to find a few good spots to get the money in. The lines have been taken from 5Dimes at approximately 1 a.m. ET.
Derek Brunson (+150) vs. Chris Leben (-160): Fans have been eagerly awaiting Leben's return from his year-long suspension and this is a good matchup to put him in at this point of his career. He is most certainly on the downside of his long and successful career and has shown that he cannot hang with anyone being considered for title contention in the division. However, he is a capable mid-level fighter who will be a big first test for Brunson, making his UFC debut.
Leben basically has one way to win this fight, and it is a powerful one: the knockout. Leben will look to keep the fight standing and land one of his powerful left hands on the chin of Brunson. On the flip side of the coin, Brunson will do well to avoid striking exchanges with Leben at all costs and put "The Crippler" on his back. His most likely method of victory will be via a decision, caused by takedowns and top control.
In this particular circumstance I would not lay a single penny on Leben. There are way too many concerns about his health and his skillset to be able to trust my money on him. He has been facing a very serious drug addiction, a lengthy suspension, and is facing a younger, hungrier fighter in Brunson. Considering a bet on Brunson comes with its own worries and risks as well. He is recently coming off a knockout loss to Jacare Souza, and is known for sticking his chin in the air while he fights. If he comes out and tries any sort of striking with Leben, he is very likely to be KO'ed.
In the end, I believe that Brunson is taking his first UFC fight extremely serious. He is fighting a known quantity in Leben, and certainly is aware of the dangers he presents on the feet. I am expecting Brunson to immediately look for takedowns, exploiting Leben's less-than-stellar takedown defense. I have already placed a bet on Brunson at +145 shortly after the weigh-ins. Passing this fight is another viable option if you believe the risks to be too high in betting Brunson. I like the bet, but I am not in love with it.
Yushin Okami (-115) vs. Alan Belcher (+105): Belcher has certainly excited fans recently with his complete domination victory of Rousimar Palhares. In the meantime, Yushin Okami has been mostly faltering as of late, started by his humiliating loss to the middleweight champion, Anderson Silva.
Breaking this fight down on paper makes it look very even stylistically and there are worries concerning each fighter that make this a difficult fight to bet. Okami should have the grappling advantage in this fight, and will certainly be looking to pressure Belcher and work in the clinch and from the top position on the ground. Belcher should have a slight advantage on the feet, and will look to keep the fight there. If taken down, Belcher will look to use his submission game. I do not expect him to find much success there. In fact, I am reluctant to find a likely method of finish for either fighter other than decision.
In the end, I do favor Okami slightly in this bout due to his grappling. I cannot bet on him because of his recent inconsistency. Okami somehow managed to look bad in his victory over Buddy Roberts in his last fight. In the fight before, he was dominating Tim Boetsch for two full rounds before being KO'ed in the third. It almost looked as if Okami froze and just backed up into more punches. I don't have concerns over his chin necessarily, but I do question his mindset.
On the other hand, I cannot really get behind Belcher as an underdog because he has basically fought three times in the last three years. His inactivity, combined with the fact that Okami is the biggest step up in competition Belcher has ever faced, make me shy away from the small underdog price offered.
Tim Boetsch (-103) vs. Constantinos Philippou (-107): Boetsch now faces a different challenge, after his unlikely comeback against Okami, and his defeat of the majorly-hyped Hector Lombard. Philippou takes this fight on somewhat short-notice, filling in for Chris Weidman.
This is a close fight and Philippou will enjoy several advantages over "The Barbarian." He has good takedown defense and great boxing to go along with it. e will be looking to pick Tim apart on the feet, and use his takedown defense in order to stay off his back. He will run into some major issues if the former NCAA Division 1 wrestler manages to get him on his back.
Boetsch also brings a more varied attack to the table on the feet, although I do not rate his standup skills better than Philippou's overall. This becomes a very tricky matchup where I can envision either guy winning. If Philippou were more active in his standup game, it would be a bit easier to pick. In the end, I am picking Boetsch to win this fight. I have very little confidence in this pick and will be passing on the fight.
Jim Miller (-210) vs. Joe Lauzon (+190): The co-main event features a battle of guys almost, but not quite, in the upper echelon of fighters within the lightweight division. Miller was looking golden for a while before running into Benson Henderson, while Lauzon seems to win a couple and then lose one, never seeming to gain the momentum needed for title contention talk.
Both fighters bring a very strong grappling game to the table with serviceable striking. Both guys have been known for their submission grappling prowess. What separates them is Miller's wrestling background, enabling him to control where the fight goes. It is this fact that makes him the odds-on favorite to win this bout.
If I absolutely had to pick a winner of this fight, regardless of odds, I would choose Miller. However, I do believe this fight is much closer than what the line suggests. I believe this fight to be closer to a 50/50 proposition than a 2-1. Due to this, I have bet Joe Lauzon at the current price.
The reasoning behind this is that Joe has been making improvements in his game recently, while Miller seems to be deteriorating. After getting beaten down by Henderson for 3 rounds, Miller defeated Melvin Guillard. This victory over Guillard was more due to Melvin making mental errors than Miller doing things right. Following that fight, Miller was completely dominated by Nate Diaz and finished for the first time in his career. He is a guy known for his toughness, who does not look quite as tough anymore. If Miller had much better standup than Joe, this would be a different story. He doesn't, and I see value in the line on Joe to win.
Junior dos Santos (-190) vs. Cain Velasquez (+175): This is a really special main event. It is the clash between the #1 and #2 guys in the business at heavyweight and should be between two fighters not experiencing knee injuries this time. Boiled down to its essence, this is a striker vs. grappler contest. JDS will need to use his boxing and takedown defense to win this fight. Cain will need to use his takedowns, top control, and ground and pound to take back the title.
I do not feel the first fight was very representative of what this fight will be. The lack of knee injuries for both parties will certainly cause both fighters to behave differently. Cain should have better lateral movement and overall explosiveness in his takedowns, while JDS should be able to utilize his footwork better and not have to throw hail-mary bombs at Cain early in this contest. He will get to fully utilize his full boxing repertoire in this contest.
Although many are backing Dos Santos in this rematch, I am going to buck the trend and pick Cain to win this fight. I believe the knee injury affected Cain's game more than JDS's last fight. I also believe that he will come in prepared and knowing what to expect. If JDS does not hurt Cain early, I expect that Cain's superior cardio will help him take control in later rounds. Of course, Cain has to survive a bit before that can happen, and he will not if he cannot get JDS to the ground. It is a tricky matchup.
The trick to betting this fight is to know when the odds are unfavorable to a guy you back. For me it is no problem because I am picking Cain. It is a no-brainer to take the decent plus money on him. However, if you believe that Dos Santos wins, I would be extremely careful betting it. If you are betting JDS at -190, you are essentially saying that you believe he has greater than a 71% chance of winning (66% from odds + 5% minimum for your profit). You must believe this to be the case in order to have a positive expected value for your bet. Use caution. I recommend betting Cain at +175 if you believe he has a greater than 41% chance of winning (36% from the odds + 5% minimum for your profit). If neither of these two scenarios apply to you, you are better off passing and enjoying an epic and most likely exciting main event.
As you can see, I am only betting three of the five main card fights. This is about average for me, as it does not make sense to bet every fight all the time. Use caution, good luck, and enjoy the fights.