The UFC will return to the Bell Centre in Montreal on March 16th for UFC 158, which will be headlined by Georges St-Pierre defending the UFC welterweight title against Nick Diaz.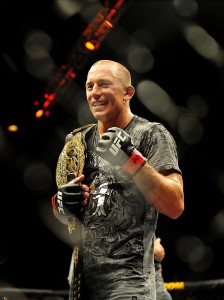 UFC officials have formally announced the event and along with the welterweight title fight, the card will also see Johny Hendricks face Jake Ellenberger and Patrick Cote meet Alessio Sakara.
"Georges St-Pierre asked to fight Nick Diaz because he knows they have unfinished business, and Nick Diaz agrees," UFC President Dana White said.
St-Pierre (23-2) recently returned after a 18 month layoff due to an injury and defeated Carlos Condit by decision at UFC 154 last month. It was his tenth straight victory and his fifth straight win by decision.
"There's been a lot of talk about who I should fight next but this was really the only choice for me," said St-Pierre. "He's made it personal and I personally can't wait."
Diaz (26-8, 1NC) is currently under suspension with the Nevada State Athletic Commission and can re-apply for a license at the beginning of February. He should not have any issues in getting a license, so he can face St-Pierre in Montreal.
"This is the fight I want," Diaz said. "I want to go out there and beat Georges St-Pierre in Montreal and show that I'm the best welterweight in the world."
Tickets for the fight card will go on sale January 19th and the UFC will be announcing more details on tickets next month.