Ross Pearson and George Sotiropoulos were finally able to settle their differences in the cage at UFC on FX 6 and Pearson scored a TKO victory in the third round.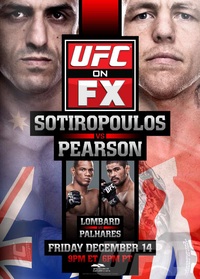 Pearson dropped Sotiropoulos in each round of the fight and finished the fight in the third round with a left jab and a right to the body. It was the third time in the fight that Pearson dropping him and Sotiropoulos was unable to recover from the combination.
Sotiropoulos did have his moment in the fight and that came at the end of the first round. He was able to secure a takedown and got the back of his opponent. Once he had his opponents back, he looked for a rear-naked choke, but Pearson was able to make it to the end of the round.
Sotiropoulos (14-5) has now lost three in a row after winning his first seven fights in the UFC. With the Australian fighter being 35 years old, the future remains unclear for him.
Also on the main card on FX was the finals of TUF: The Smashes as Robert Whittaker defeated Brad Scott by decision to win the welterweight division and Norman Parke defeated Colin Fletcher by decision to win the lightweight division.
The welterweight final was a closer fight that the lightweight fight as Whittaker and Scott went to the third round tied at one round a piece. Whittaker was able to apply more pressure and land better strikes in the final round to walk away with a victory. Parke was able to control all three rounds against Fletcher as he was able to close the distance, take the fight to the ground and outwork his teammate on the reality show.
The other fight on the main card saw Hector Lombard score his first UFC victory as he was able to overwhelm Rousimar Palhares with his striking to get a TKO victory. Palhares struggle to get the fight to the ground and Lombard dominated the fight on the feet.
The full UFC on FX 6 results are below and stay tuned to TheMMAReport.com for more post fight coverage of this UFC fight card.
Main Card: (FX)
Ross Pearson def. George Sotiropoulos via TKO (strikes) – Round 3, :41
Robert Whittaker def. Brad Scott via unanimous decision (29-28, 29-28, 29-28)
Norman Parke def. Colin Fletcher via unanimous decision (29-28, 29-28, 29-28)
Hector Lombard def. Rousimar Palhares via TKO (strikes) – Round 1, 3:38
Preliminary Card: (FUEL TV)
Chad Mendes def. Yaotzin Meza via KO (strikes) – Round 1, 1:55
Joey Beltran def. Igor Pokrajac via unanimous decision (30-27, 30-27, 30-27)
Mike Pierce def. Seth Baczynski via unanimous decision (30-27, 29-28, 29-28)
Ben Alloway def. Manuel Rodriguez via KO (front kick) – Round 1, 4:57
Mike Wilkinson def. Brendan Loughnane via unanimous decision (29-28, 29-28, 29-28)
Cody Donovan def. Nick Penner via TKO (strikes) – Round 1, 4:35