An injury has forced Hacran Dias out of his fight at UFC on FX 6 against Chad Mendes and replacing Dias in the fight will be Yaotzin Meza.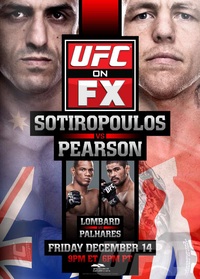 UFC officials have announced the change and the new bout will take place on the preliminary card, which will be shown on FUEL TV on Friday night.
Meza (18-7) is a training partner of UFC lightweight champion Benson Henderson and is 6-1 in his last seven fights.
"This is a huge opportunity for me," Meza said in a statement released by First Round Management. "I am thankful that the UFC is opening this door. I can't wait to get to Australia, step into the Octagon, and show that I belong in this organization. I've been training hard already, helping Benson to prepare for his fight with Diaz, so there won't be a huge adjustment for me to get ready for this fight."
Mendes (12-1) is a former title contender in the UFC featherweight division and is coming off a knockout victory at UFC 148 against Cody McKenzie. The knockout at UFC 148 was his first stoppage victory in the UFC and it was his first knockout victory since 2009 when he defeated Steven Siler.
UFC on FX 6 will be shown live this Friday night on FX and FUEL TV with the fight card coming from the Gold Coast Convention and Exhibition Centre in Australia and will be headlined by a five round lightweight bout as TUF: The Smashes coaches square off with George Sotiropoulos meeting Ross Pearson.