Bellator MMA has been waiting to make their debut on Spike TV for over a year and they will finally make their debut on the cable television station tonight when Bellator 85 takes place from the Bren Center in Irvine, California.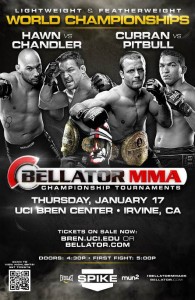 Tonight's fight card will begin with the preliminary card on Spike.com and will begin at 8 p.m. ET with seven fights scheduled for this portion of the card. The main card will then begin at 10 p.m. ET and will have two title fights.
Along with the two title fights, tonight's card will also feature the start of the season eight light heavyweight tournament as three of the four quarterfinal bouts and two of them are scheduled to take place on the main card.
Tonight's light heavyweight tournament bouts will be Emanuel Newton (18-7) vs. Atanas Djambazov (17-2), Seth Petruzelli (14-6) vs. Jacob Noe (9-1) and Renato "Babalu" Sobral (37-9) vs. Mikhail Zayats (19-6). The winners will advance to the semifinals, which will take place later on during this season of Bellator MMA.
The first fight that fans will see on Spike TV tonight will be for the Bellator featherweight title as Pat Curran (17-4) defends the title for the first time and will be challenged by season four tournament winner Patricio "Pitbull" Freire (17-1).
This title fight was originally scheduled to take place in the summer of 2012, but Curran suffered a fractured orbital bone and had to pull out of the fight. At first, Pitbull felt that Curran was not being honest about the injury and Bellator officials had to tell him that Curran was truly injured and unable to compete.
During their Bellator careers, both fighters have shown their abilities to win by knockout. Curran's last two wins have come by knockout and his victory over Joe Warren to become the champion was one of the most vicious knockouts in Bellator history. This will be Pitbull's first fight since May of 2011 when he won the season four Bellator tournament and two of his last three wins are by knockout.
During a recent media conference call, Curran stated that he knows the power that his opponent has but believes that cardio could become an issue. Pitbull has gone to the third round in his previous five fights, but Curran feels that he wears down as the fight goes on.
This fight is not likely to go into the championship rounds and someone is likely to get knocked out. Cage rust could end up being an issue for both fighters and expect both guys to come out and attempt to end the fight quickly.
In the main event, Michael Chandler (10-0) will return to the Bellator cage for the first time since April and will defend the Bellator lightweight title for the first time when he takes on season six tournament winner Rick Hawn (14-1).
Chandler became the Bellator lightweight champion when he defeated Eddie Alvarez at Bellator 58, which is considered the best fight in Bellator history. Since winning the title, he has only been in action once, which was a TKO victory over Akihiro Gono in May of last year. Since that fight, he has moved his training from Xtreme Couture in Las Vegas to Alliance MMA in San Diego.
Hawn entered Bellator during the fourth season of Bellator as a welterweight and made it to the final of the welterweight tournament. After being defeated by Jay Hieron, his trainer Firas Zahabi convinced him that he should move down to the lightweight division and he won the season six tournament. As a lightweight, two of his victories have come by  knockout and he is always looking to finish his fights with his hands.
Chandler likes to push the pace in his fights and be constantly in his opponents face. He will have to watch out for the power of Hawn and will likely use his wrestling in the fight. Hawn will need to stop the takedown attempts of Chandler and stay off his back in the fight.
Coverage of tonight's Bellator 85 will be on TheMMAReport.com with live results and play by play beginning with the main card on Spike TV at 10 p.m. ET.
Tonight's full fight card is below:
Main Card: (Spike TV – 10 p.m. ET/7 p.m. PT)
Michael Chandler (10-0) vs. Rick Hawn (14-1) – LW Title Bout
Seth Petruzelli (14-6) vs. Jacob Noe (9-1) *
Babalu Sobral (37-9) vs. Mikhail Zayats (19-6) *
Pat Curran (17-4) vs. Patricio Pitbull (17-1) – FW Title Bout
Preliminary Card: (Spike.com – 8 p.m. ET/5 p.m. PT)
Emanuel Newton (18-7) vs. Atanas Djambazov (17-2) *
Hector Ramirez (9-4-1) vs. Jason Lambert (25-12)
Aaron Miller (12-8) vs. Joe Camacho (13-17-3)
Joe Williams (7-1) vs. Jamie Yager (6-3)
Savant Young (10-9) vs. Mike Guymon (14-5-1)
Brian Warren (18-16-1) vs. J.J. Ambrose (18-4)
Cleber Luciano (7-4) vs. Mario Navarro (4-2)
* – Light Heavyweight Tournament Quarterfinal