The season eight Bellator middleweight tournament will begin on February 14th at the Bojangles Coliseum in Charlotte at Bellator 89 and the bracket for the tournament has been released.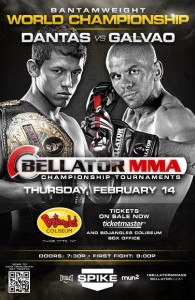 Along with the middleweight tournament bouts, Bellator 89 will be headlined by Bellator bantamweight champion Eduardo Dantas making his first title defense as he takes on season six tournament winner Marcos Galvao.
Tickets for the event are on sale now and can be purchased at Ticketmaster.com or by visiting The Bojangles' Coliseum Box Office, with tickets starting at just $37 dollars.
The preliminary card will be streamed on Spike.com starting at 8 p.m. ET and the main card will begin at 10 p.m. ET on Spike, as well as in Spanish language on mun2.
All four of the middleweight tournament quarterfinal bouts will take place on the February 14th card and the bouts will be Brian Rogers (10-4) vs. Dan Cramer (9-3), Brett Cooper (17-7) vs. Norman Paraisy (10-2), Andreas Spang (8-2) vs. Doug Marshall (15-6) and Mikkel Parlo (9-0) vs. Sultan Aliev (7-0).
This will be the third Bellator middleweight tournament for Rogers, who was a semifinalist in the season five and six tournaments. He is excited to be back in the Bellator tournament and is looking forward to becoming a house hold name in MMA.
"I'm very privileged and excited to be back in the most elite MMA tournament in the world," Rogers said. "I have the chance to show millions of people on Spike TV what I can do as a full time fighter. I'm ready to become a house hold name that's synonymous with Bellator and MMA."
The winner of this tournament will win $100,000 and a guaranteed shot at the Bellator middleweight title. The title is current vacant and Alexander Shlemenko and Maiquel Falcao will square off next week in the main event of Bellator 88 and the winner will be declared the Bellator middleweight champion.
The Bellator Season Eight Middleweight Tournament bracket is below: