Bellator MMA will make their debut on Spike next week from the Bren Center in Irvine, California and the current fight card will have eleven bouts.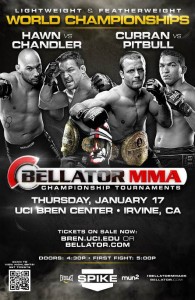 The fight card will begin with the preliminary card on Spike.com at 7 p.m. ET/4 p.m. PT with eight fights, which will included the light heavyweight tournament quarterfinal bouts as Seth Petruzelli (14-6) faces Jacob Noe (9-1) and Emanuel Newton (18-7) meets Atanas Djambazov (17-2).
The main card will then begin at 10 p.m ET/7 p.m. PT with three fights, which will include the Bellator lightweight and featherweight titles on the line.
In the co-main event, Pat Curran (17-4) will make his first title defense when he is challenged by season four featherweight tournament winner Patricio Pitbull (17-1).
Then in the main event, lightweight champion Michael Chandler (10-0) will make his first title defense since winning the title in late 2011 when he takes on season six tournament winner Rick Hawn.
The current Bellator 85 fight card is below:
Main Card: (Spike TV – 10 p.m. ET/7 p.m. PT)
Michael Chandler (10-0) vs. Rick Hawn (14-1)
Pat Curran (17-4) vs. Patricio Pitbull (17-1)
Babalu Sobral (37-9) vs. Mikhail Zayats (19-6) *
Preliminary Card: (Spike.com – 7 p.m. ET/4 p.m. PT)
Cleber Luciano (7-4) vs. Mario Navarro (4-2)
Seth Petruzelli (14-6) vs. Jacob Noe (9-1) *
Emanuel Newton (18-7) vs. Atanas Djambazov (17-2) *
Hector Ramirez (9-4-1) vs. Jason Lambert (25-12)
Aaron Miller (12-8) vs. Joe Camacho (13-17-3)
Joe Williams (7-1) vs. Jamie Yager (6-3)
Savant Young (10-9) vs. Mike Guymon (14-5-1)
Brian Warren (18-16-1) vs. J.J. Ambrose (18-4)
* – Light Heavyweight Tournament Quarterfinal