One of the biggest topics currently in mixed martial arts revolves around free agent lightweight fighter Eddie Alvarez.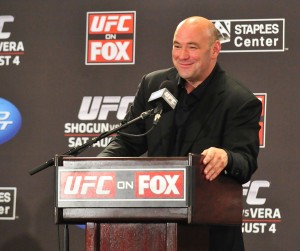 After his contract with Bellator expired, Alvarez received an offer from the UFC which Bellator had the right to match the contract.
Bellator ended up matching the contract offer from the UFC. Alvarez's legal team does not believe that Bellator matched the contract offer and the issue will now be decided in a New Jersey court room.
UFC President Dana White has been fairly quiet about the situation, since they are not involved with the lawsuits between Alvarez and Bellator.
However, White talked about the situation during his appearance on "UFC Tonight," which FUEL TV has released the full interview since only a portion of the interview aired last night.
One of the clauses in the UFC offer to Alvarez was that they would put him on a UFC on FOX fight card. When Bellator matched the contract, they replaced FOX with Spike TV. This is one example on why the lawyers for Alvarez do not believe that Bellator matched the contract offer and White says calling FOX and Spike TV the same is a ridiculous statement.
"The lawyer for Bellator is the either the biggest moron in the history of the world or a liar," White said on UFC Tonight. "For this guy to go out there that Spike and FOX are exactly the same, is the most ridiculous statement ever made in the history of the world to compare FOX network to Spike TV. How many critically acclaimed shows does Spike TV have? What kind of numbers do Spike TV pull every week? Our prelims on FX pull bigger numbers than there live main events do."
White believes that Alvarez is getting screwed in this situation and went after the head of Viacom Philippe Dauman during his interview last night.
"Eddie Alvarez is getting screwed big time. You go into the judge and he is not educated on television, television networks and pay-per-view. I have said this before and it drives me crazy, it's not Spike TV, it's Viacom. There is a pompous, arrogant clown that runs Viacom and his name is Philippe Dauman. This guy has claimed that he built the UFC. Claims he built the UFC. Let me remind everybody that UFC was a time buy on Spike TV. We paid $10 million in a time buy to be on Spike TV. They are acting like these geniuses that saw this sport coming. Comparing FOX to Spike is a joke and it's horrible what is happening to Eddie Alvarez."
This case will end up being decided in a New Jersey court system later this year, unless Alvarez and Bellator settle out of court. It's unlikely that a settlement will happen in this case and it may be some time before this case is resolved.