Quinton "Rampage" Jackson will likely step into the UFC cage for the last time on Saturday night at the United Center in Chicago when he faces Glover Teixeira in the co-main event of UFC on FOX 6.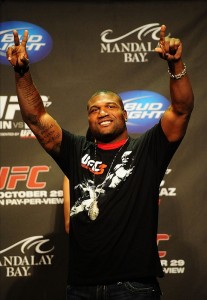 In the lead up to this fight, Rampage has stated that he feels that his opponent has disrespected him and went into detail on this during his appearance on last night's edition of UFC Tonight on FUEL TV.
"He's been talking a lot of smack about me and around his last fight he said that I've been talking a lot of smack about him, but I haven't talked any smack about him at all," Jackson said. "So it's very disrespectful to fabricate a lie like that."
This fight was originally scheduled to take place at UFC 153 last year, but Jackson had to pull out of the fight with an injury.
Rampage has been excited about the matchup in the past, since he feels that his opponent would stand and trade strikes with him. However, he now believes that Teixeira will be looking to take the fight to the ground and hold him against the cage.
"I could get excited about it," he said. "But it was brought to my attention by my manager that Glover is planning on going in there and taking me down and holding me against the cage and pretending to stand up with me to take me down, which is ok. I'm not surprised."
Teixeira can win a fight on the feet or the ground and has a black belt in Brazilian Jiu-Jitsu. Rampage knows that his opponent is a great ground fighter, but feels that if the fight goes to the ground that he will be able to get off his back.
"He's a great ground fighter, so if he wants to win why trade with me. Fight me on my weakest skill, which is on the ground. But he has a new thing coming because I've trained to take this fight anywhere. If he takes me down, I've trained to take this fight right back up. I feel like he's going to have a hard time taking me down."
This is the last fight on his UFC contract and Jackson has stated over the past couple of months that this will be his last fight in the UFC. He does still plan on fighting after this fight and he wants to try boxing in the near future.
"This will probably be the last time in UFC, but I'll be still fighting. Wherever I go, you can still see me throw it down. At first I wanted to retire at 35, but I think I've got a couple more years. And I want to try boxing. I want to see if I can do that."