Rashad Evans will enter the octagon for the first time on Saturday night since he lost a decision to UFC light heavyweight champion Jon Jones at UFC 145 and he will face Antonio Rogerio Nogueria in the co-main event of UFC 156.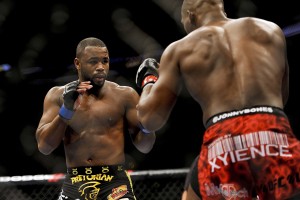 The winner of this fight will move up the latter in the UFC light heavyweight division and could be another win away from a title shot.
Nogueira has gone 3-2 since coming to the UFC and two of those victories were by TKO.
However, Evans is not concerned with the boxing of Nogueira since he trains with high level strikers.
"Respectable speaking, I don't think his boxing is like something I have not seen before," Evans said in his UFC 156 Pre-Fight Interview. "You got to understand the level of strikers that I see every day. I have Tyrone Spong, Alistair Overeem, Vitor Belfort and Thiago Silva. You got guys that can really strike. I'm not really thinking that I'm going to see something I have not seen before."
Evans (22-2-1) is confident that he will get the win on Saturday night and has his eyes set on another fight with Jones. He would like to see how he would do in a second fight with Jones and would not squander the opportunity against his former training partner.
"I will defeat him, I will defeat Nogueira. I want to fight for the belt again. I want to get a chance to see how I will do the second time around with Jon Jones and I know if I bring my development along right now, then when I get a chance again I will not squander the opportunity again."