Strikeforce bean promoting mixed martial arts events in 2006, which they were the first MMA show in California and they will hold their final event tonight at the Chesapeake Energy Arena in Oklahoma City.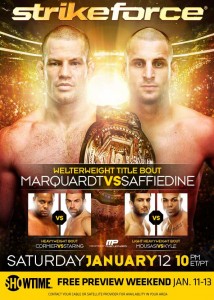 Tonight's fight card will begin at 7 p.m. ET with two preliminary card bouts that will not be shown live. The televised portion of the preliminary card will begin at 8 p.m. ET/PT on Showtime Extreme and feature four fights.
The main card will then begin at 10 p.m. ET/PT and will be headlined by Strikeforce welterweight champion Nate Marquardt (32-10-2) facing Tarec Saffiedine (13-3).
Marquardt is a former UFC fighter and was released by the organization in 2011 after he was unable to be medically cleared for a fight in Pennsylvania. After his release, he was eventually signed by Strikeforce and made his debut with the company last year. He took on Tyron Woodley for the vacant welterweight title and scored a brutal knockout victory to win the title.
He is currently a 3 to 1 favorite, but he is not looking past his opponent. Saffiedine is currently on a three fight winning streak and has won six of his seven fights in Strikeforce. With a win tonight, Saffiedine would become a known name and would become a top contender in the UFC welterweight division.
If Marquardt retains his title tonight, which most people expect will happen. He will instantly become a title contender and will likely need one win in the UFC to be in line for a title shot against whoever is the champion. He does train at times along side current champion Georges St-Pierre, but has stated he has no issues taking on his training partner.
Also on the main card will be Strikeforce Heavyweight Grand Prix tournament winner Daniel Cormier (10-0) and he will take on Strikeforce newcomer Dion Staring (28-7). Cormier will enter the cage as one of the biggest favorites in MMA history as he is currently a 20 to 1 favorite and that number is likely to go up as fight time becomes closer.
Cormier doesn't have much to gain in this fight as he has already signed a contract with the UFC and he has already talked about potential opponents in the UFC. However, Staring has everything gain as this his is first fight in Strikeforce and he can prove all of his doubters in this fight.
Staring is currently on a six fight winning streak, but does not have a notable victory during his recent win streak. He has been training with the Blackzilians in South Florida for this fight and is known for his kickboxing.
Upon the conclusion of the event, Strikeforce will fold and a majority of the fighters will move over to the UFC. Some of the fighters on tonight's card believe they are fighting for their job and need a win to move over to the premier MMA organization.
The full Strikeforce: Marquardt vs. Saffiedine fight card is below:
Main Card: (Showtime – 10 p.m. ET)
Nate Marquardt (32-10-2) vs. Tarec Saffiedine (13-3)
Daniel Cormier (10-0) vs. Dion Staring (28-7)
Josh Barnett (31-6) vs. Nandor Guelmino (11-3-1)
Gegard Mousasi (32-3-2) vs. Mike Kyle (19-8-1, 1NC)
Ronaldo Souza (16-3) vs. Ed Herman (20-8, 1NC)
Preliminary Card: (Showtime Extreme – 8 p.m. ET)
Pat Healy (30-15) vs. Kurt Holobaugh (7-0)
Roger Gracie (5-1) vs. Anthony Smith (17-8)
Tim Kennedy (14-4) vs. Trevor Smith (10-2)
KJ Noons (11-5) vs. Ryan Couture (5-1)
Preliminary Card: (Not scheduled to be broadcast)
Jorge Gurgel (14-8) vs. Adriano Martins (23-6)
Estevan Payan (13-3, 1NC) vs. Michael Bravo (7-3)