Strikeforce held their final fight card on Saturday night at the Chesapeake Energy Arena in Oklahoma City and Tarec Saffiedine became the final Strikeforce welterweight champion when he defeated Nate Marquardt by unanimous decision.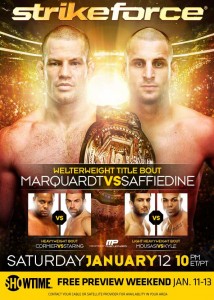 Saffiedine (14-3) attacked Marquardt's lead leg from the opening bell until the final bell sounded. He was able to control most of the action and the former champion was not able to put him in any serious danger.
Coming into the fight, Marquardt felt that he would not have any issues in taking the fight to the ground and it was an issue. Saffiedine was able to stop the takedown attempts of his opponent and was able to control the grappling in the fight.
Marquardt (32-11-2) was never able to get Saffiedine on his back to create any offense. Unlike his Strikeforce debut against Tyron Woodley, he never let his hands go to mount offense and put his opponent in trouble. Even if his history with the UFC and being cut in 2011, he is expected to return to the company with Strikeforce going away.
Saffiedine will now be known as the final Strikeforce welterweight champion and will move over to the UFC with a four fight winning streak and winning seven of his eight fights in Strikeforce.
In other action on Saturday night, heavyweight Grand Prix champion Daniel Cormier was able to dominate Dion Staring and score a TKO victory in the second round.
Also, Grand Prix tournament runner-up Josh Barnett returned to the Strikeforce cage and needed just over two minutes to get a submission win over Nandor Guelmino.
The full results for Strikeforce: Marquardt vs. Saffiedine are below:
Main Card: (Showtime)
Tarec Saffiedine def. Nate Marquardt via uanimous decision (48-47, 49-46, 49-46)
Daniel Cormier def. Dion Staring via TKO (strikes) – Round 2, 4:02
Josh Barnett def. Nandor Guelmino via submission (armbar) – Round 1, 2:11
Gegard Mousasi def. Mike Kyle via submission (rear-naked choke) – Round 1, 4:09
Ronaldo Souza def. Ed Herman via submission (kimura) – Round 1, 3:10
Preliminary Card: (Showtime Extreme)
Ryan Couture def. KJ Noons via split decision (29-28, 27-30, 29-28)
Tim Kennedy def. Trevor Smith via submission (guillotine choke) – Round 3, 1:36
Pat Healy def. Kurt Holobaugh via unanimous decision (29-28, 30-27, 30-27)
Roger Gracie def. Anthony Smith via submission (arm triangle choke) – Round 2, 3:16
Preliminary Card:
Adriano Martins def. Jorge Gurgel via unanimous decision (29-28, 29-28, 30-27)
Estevan Payan def. Michael Bravo via TKO (strikes) – Round 2, 4:01