Following the UFC on FOX 6 broadcast, the post fight show on FUEL TV included interviews with UFC President Dana White and the fighters that took part in the fight card.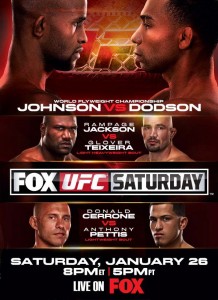 FUEL TV has released all of the interviews that took place on the show, which included White giving his thoughts on the main event and whether a point should have been taken away from Demetrious Johnson for the illegal knee in the fourth round.
"I do think the point should have been taken away," White said. "It was an illegal knee and it caused damage. There should have been a point taken away. But I hate that rule. The reason it's there, it's for soccer kicks when guys are down on the ground. But I don't like when guys put their hand down to protect them from it. It was an awesome fight, a close fight and a controversial fight. I agree with you the third round was pivotal."
Anthony Pettis was also on the post fight show after his knockout of the night performance against Donald Cerrone. He has now put himself in line for a title shot and is not sure if he will wait for a title shot or take another fight.
"I have to see what they offer me," Pettis said. "I hate waiting. I have a great performance, I get injured, and I'm stuck waiting. I think 2013 is going to be my year. My fight was ten minutes ago. I'm going to hang out with my daughter after this fight and then figure it out."
All of the interviews from the post fight show on FUEL TV are below: