UFC on FOX 6 takes place tonight at the United Center in Chicago and will be headlined by Demetrious Johnson making his first UFC flyweight title defense when he is challenged by Ultimate Fighter 14 winner John Dodson.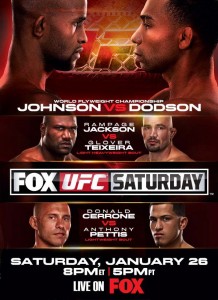 Along with the world title fight, former UFC light heavyweight champion Quinton "Rampage" Jackson will potentially have his final UFC fight as his contract will expire after this fight and will take on Glover Teixeira.
The preliminary card will begin at 4:35 p.m. ET/1:35 p.m. PT on the UFC Facebook page with one fight and the final other six preliminary bouts will take place on FX and will begin at 5 p.m. ET/2 p.m. PT.
The main card on FOX will begin at 8 p.m. ET/5 p.m. PT with four fights, which will begin with potentially a number one contenders bout in the featherweight division as Erik Koch (13-1) faces Ricardo Lamas (12-2).
In the main event, Johnson (16-2-1) will make his first title defense and this is the second straight FOX card that has been headlined by a title fight. Johnson became the first ever flyweight champion when he defeated Joseph Benavidez in the final of the flyweight tournament at UFC 152 in Toronto last year.
He is known for his speed, but MMA fans also know him for going to the distance. During his WEC/UFC career, he has gone to the decision in nine of his ten fights and his only stoppage victory came at WEC 52 when he submitted Damacio Page in the second round.
Dodson (15-5) entered the UFC during season 14 of "The Ultimate Fighter" and won the bantamweight tournament when he defeated TJ Dillashaw in the final. After winning the reality show, he moved down to the flyweight division and has gone 2-0 in the division. At UFC on FX 5, he defeated top flyweight Jussier Formiga by knockout in a number one contenders bout.
Much of the talk about this title fight has been about the speed and the pace that both fighters will bring into the octagon tonight. Johnson believes that Dodson has the speed, but this fight will be more than speed.
"He can have the speed to contend with me, but it's not all about the speed, that's not how I win all my fights," Johnson said. "It's not because I'm super fast. I like to think that I'm good fundamentally and I have a good skill set. So he can match me speed-for-speed, but will he be able to match my pressure, my cardio? There's more aspects than just speed."
Johnson likely will have the speed advantage in the fight, but Dodson believes his advantage in the stand up portion of the fight is his power.
"He might be a little bit faster than me, but I can counter that with the power that I possess," Dodson said. "With my power I can make sure I can hit you with as many times as you want if you want to get put down before you wanna get put down or I can just hit you one time and put you to sleep."
Since the UFC started the flyweight division, the fans have not enjoyed the fights and tonight is a big night for the division. If Johnson and Dodson can put on an exciting and fan pleasing performance, it could elevate the division going forward.
In the co-main event, Rampage (32-9) will likely have his final fight in the UFC when he is challenged by an up and coming light heavyweight in Teixeira (19-2). Rampage has stated over the past couple of months that he wants to end this portion of his career and move past the UFC. He claims that he is in the best shape of his career and appears to be motivated for his fight tonight.
This was a fight that Rampage was excited for when it was originally announced, which was supposed to take place at UFC 153 last year. Rampage had to pull out of the fight with an injury and Teixeira ended up taking on Fabio Maldonaldo, which he won the fight by TKO.
However, Rampage believes that his opponent will not stand with his and trade strikes and believes that he will attempt to take the fight to the ground. The former UFC champion has been working on his takedown defense and getting off his back during his training camp. He recently said during a conference call that he will show off his new skills in Chicago if Teixeira attempts to take the fight to the ground.
For Teixeira, he is a complete mixed martial artist and can win the fight on the feet or on the ground. During his training camp, he worked with former UFC champions Chuck Liddell and Lyoto Machida. He was a long time training partner for Liddell and has helped Machida in his previous camps. Both Liddell and Machida have faced Jackson in the past and both of them were defeated.
Rampage would like the fight to be a stand up fight, but the proper game plan for Teixeira would be to take the fight to the ground. The weakness in Rampage's game is his ground fighting. He has struggled to get off his back in his defeats in the UFC and expect to see Teixeira attempt to take the fight to the ground. If the fight does not go to the ground and stays on the feet, expect an exciting fight and someone will be knocked out.
Live coverage of UFC on FOX 6 will begin at 4:35 p.m. ET/1:35 p.m PT on TheMMAReport.com with live results of the preliminary card and play by play coverage will begin at 8 p.m. ET/5 p.m PT with the main card on FOX.
Main Card: (FOX – 8 p.m. ET/5 p.m. PT)
Demetrious Johnson (16-2-1) vs. John Dodson (15-5) – Flyweight Title Bout
Quinton Jackson (32-9) vs. Glover Teixeira (19-2)
Anthony Johnson (13-2) vs. Donald Cerrone (19-4, 1NC)
Erik Koch (13-1) vs. Ricardo Lamas (12-2)
Preliminary Card: (FX – 5 p.m. ET/2 p.m. PT)
TJ Grant (19-5) vs. Matt Wiman (15-6)
Clay Guida (29-10) vs. Hatsu Hioki (26-5-2)
Mike Stumpf (11-3) vs. Pascal Krauss (10-1)
Ryan Bader (15-3) vs. Vladimir Matyushenko (26-6)
Mike Russow (15-2, 1NC) vs. Shawn Jordan (13-4)
Rafael Natal (14-4-1) vs. Sean Spencer (9-1)
Preliminary Card: (Facebook – 4:35 p.m. ET/1:35 p.m. PT)
Simeon Thoresen (17-3-1) vs. David Mitchell (11-2)