This past Saturday night the UFC returned to FUEL TV & FX for UFC on FX 7 to record ratings.  The fight card was highlighted by Vitor Belfort defeating Michael Bisping via TKO.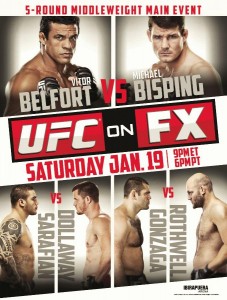 From a ratings perspective the UFC pushed the pace and beat all of its old FUEL TV and FX records.
The preliminary card, which was primarily on Fuel TV, scored a 255,000 total viewers according to multiple Nielsen reports.
The main card portion on FX drew 1.9 million total viewers at its peak according to Neilsen reports. Both of these numbers are the highest the UFC has ever reached making these outstanding numbers overall.
To put these numbers into perspective, the highest the UFC has ever drawn on FX or FUEL TV (for prelims) was UFC on FX 4. So this is definitely something the UFC should be exited about. Although, it should also be noted though that this wasn't necessarily a big night for television. Especially with it being the first real night NFL or College Football haven't been on the dial.
The highest rated show for the night was an episode of 48 Hours on CBS that drew over 5.26 million total viewers. The NHL also made its strongest comeback to date with an impressive 2.0 million total viewers for its debut on NBC which featured the Flyers/Penguins and Kings/Blackhawks games. Thankfully for the UFC, these games were on well earlier in the night so no real competition.
Regardless, the UFC should be very happy with these numbers and look to improve even further with its TUF numbers which will be out later today.