Robbie Lawler, Kenny Robertson, Dennis Bermudez and Matt Grice won fight night bonuses at UFC 157 and each fighter received $50,000.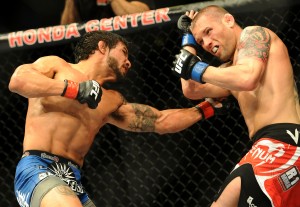 Lawler won the knockout of the night bonus for his victory over Josh Koscheck, which was the first fight on the pay-per-view portion of the fight card.
This was the return of Lawler to the UFC as his last fight took place at UFC 50 in 2004. Along with this being his return to the UFC, it was also his return to the welterweight division.
The submission of the night went to Kenny Robertson, who defeated Brock Jardine by a knee bar in the first round on the preliminary card on Facebook. After Robertson won the fight, UFC President Dana White tweeted about the submission.
"How sick was that submission," White tweeted. "Love the evolution of this sport."
The victory for Robertson was his second UFC victory and his first submission win in the organization. Overall, he now has five wins by submission and three of his last five wins are by submission.
The fight of the night bonus went to a fight that took place on the preliminary card on FX as Dennis Bermudez defeated Matt Grice via split decision. At various points in the fight, it looked like Bermudez or Grice would get a knockout victory. However, both fighters would be able to survive the attacks.
This is the third time that Bermudez has won a fight night bonus and he has now won a fight night bonus in back to back fights. For Grice, this is his first fight night bonus and is now 1-2 in the UFC. At the post fight press conference, White stated that Grice would not be released and would be back with the organization.