The UFC announced earlier today that bantamweight fighter Alex Caceres tested positive for marijuana metabolites at following his win over Kyung Ho Kang at UFC on FUEL TV 8 earlier this month.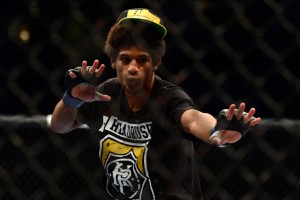 Caceres has released a statement through his management company and he has accepted the suspension the UFC has handed him.
"I accept full responsibility for my actions and the consequences from those actions," Caceres said in a statement released by First Round Management. "I apologize to all that I have disappointed, including the UFC, my family, coaches, training partners and fans. I accept the sanctions from the UFC and I look forward to completing the necessary steps to getting back in the octagon following the suspension and assuring that this never happens again."
For testing positive for marijuana metabolites, Caceres will attend drug rehabilitation classes and will receive a 6-month suspension retroactive to the date of the event and must pass a drug test upon completion of the suspension before receiving clearance to compete again. Along with the suspension, his win over Kang has been declared a no contest.