Michael Bisping will be in the co-main event of next month's UFC 159 card as he will face Alan Belcher as both fighters are looking to get back into title contention with a victory.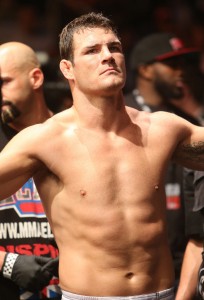 Both fighters have been trading jabs on the internet over the past couple of week's, which includes Belcher wanting to make a bet on the fight. Belcher mentioned a tattoo bet and even a car bet.
During last night's episode of UFC Tonight on FUEL TV, Bisping proposed his own bet which was the winner takes "all the pride and glory."
"He's talked about tattoo bets. He's sitting in the back of the Rolls Royce Phantom, showing off because he has a rich friend. That's not what I'm about, showing off. I'm focusing on the fight. How about this? I challenge you to a fight on April 27, and the winner takes all the pride and glory. You can take your tattoos and your Phantom and stick them where the sun doesn't shine. I'll see you April 27 and I will beat you."
While Bisping never underestimates his opponent, he believes that he is in a different league than Belcher and wants to prove that on April 27th in New Jersey.
"I never underestimate an opponent, but I truly believe I'm the better fighter. I've got the better skill set. I think I'm a tougher person. If we were to meet off the street with no martial arts training I would win every time. I'm in a different league and I have to prove it."
During his career, the Ultimate Fighter 3 winner has 14 career wins by knockout but his last win by knockout came at the end of 2011. He would like to finish Belcher by knockout and prove his is still one of the best in the middleweight division.
"My last fight didn't go to plan. I have to go out and get redemption for my last performance. I have to go out and knock him out. I want to prove I'm one of the best in the middleweight division and to do that I've got to take him out and take him out in style."
Bisping (23-5) is coming off a knockout lost to Vitor Belfort at UFC on FX 7, which a victory would have secured him a title shot against Anderson Silva. He would like to get another shot at Belfort, but wants the fight to take place in Nevada due to Belfort's testosterone replacement therapy exemption he received in Brazil.
"Vitor tweeted me directly, 'Look Michael Bisping, my head kick to you has started a fever across the world' and he had pictures of people throwing kicks, which I took exception to and found a little insulting. So I challenged him to a rematch in Nevada where he can't get a license to use his steroids. I'm a clean fighter, forget the steroids, let's do it again."