After losing to Georges St-Pierre last night in the main event of UFC 158, Nick Diaz seemed like retirement was in his future when he had his post fight interview with Joe Rogan in the octagon.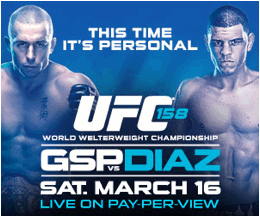 However, Diaz was on the post fight show on FUEL TV and stated that he wants a rematch with St-Pierre.
"I want a rematch," Diaz told Ariel Helwani on FUEL TV. "Georges St-Pierre, if you'd give me a rematch, I'd appreciate it because I could beat you."
Diaz (26-9-1) did admit that he is trying to get out of the sport, but he wants a rematch with St-Pierre who he says hits like a girl.
"I'm trying to retire. I'm trying to get out of this gig. But I'd like a rematch. I think I can stop the takedowns and beat him. I'm not hurt. He hits like a woman. He hits like a girl because he's too scared to let go to get a real punch in."
All three judges scoring the fight gave all five rounds to St-Pierre and Diaz did not want to make excuses on why he was unable to get the victory. However, he did say that he could have a better training camp and that no one have faith in him to win this fight.
"I could have had a better training camp. I'm not making excuses. Nobody had faith in me to win this fight. I think I could have stopped the takedowns and I could have gotten the takedowns. I was flat. The first two rounds, I was moving slow. The third and fourth round I was moving pretty good. I was hoping for a knockout."
He has now lost back to back fights after winning eleven straight fights from 2008-2011. Johny Hendricks will be the next opponent for St-Pierre and the future of Diaz is the UFC is unknown at this time.