Manny Gamburyan has been force to pull out of his UFC on FX 8 bout Hacran Dias due to an injury and Nik Lentz has agreed to step in and face Dias.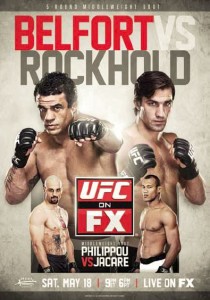 UFC officials announced the change on Monday and the featherweight bout will take place on the preliminary card, which will air on FUEL TV and Facebook.
This is the second straight fight that Gamburyan has had to pull out of due to an injury. He was just recently cleared to begin training but he once again suffered an injury that forced him to pull out of the fight. It's unknown what type of injury he has and how long he will be out for.
Lentz (23-5-2, 1NC) entered the UFC in 2009 as a lightweight and was 5-0-1 in his first six UFC fights. In his next three fights, he went 0-2, 1NC and decided he would drop down to the featherweight division. Since dropping down in weight, he has won back to back fights which includes a win over Diego Nunes at UFC on FX 7 in January.
Dias (21-1-1) is currently on a nine fight winning streak and won his UFC debut last year at UFC 147 against Yuri Alcantara. He was then booked to face Mendes at UFC on FX 6 at the end of last year, but he had to pull out of the fight with an injury.
UFC on FX 8 takes place on May 18th in Brazil and the current fight card is below:
Main Card: (FX – 9 p.m. ET)
Vitor Belfort (22-10) vs. Luke Rockhold (10-1)
Ronaldo Souza (17-3, 1NC) vs. Constantinos Philippou (12-2, 1NC)
CB Dollaway (13-4) vs. Cezar Ferreira (5-2)
Rafael dos Anjos (18-6) vs. Evan Dunham (14-3)
Preliminary Card: (FUEL TV – 6 p.m. ET)
Hacran Dias (21-1-1) vs. Nik Lentz (23-5-2, 1NC)
Mike Rio (9-1) vs. Francisco Trinaldo (12-2)
Lance Benoist (6-2) vs. Paulo Thiago (14-5)
Yuri Alcantara (27-4, 1NC) vs. Marcos Vinicius (20-4-1)
Azamat Gashimov (7-2) vs. John Lineker (20-6)
Roger Hollett (13-4) vs. Fabio Maldonado (18-6)
Preliminary Card: (Facebook – 4:30 p.m. ET)
John Cholish (8-2) vs. Gleison Tibau (26-9)
Chris Cariaso (14-4) vs. Jussier Formiga (14-2)
Jeremy Larsen (8-3) vs. Lucas Martins (12-1)