The UFC 158 Weigh-Ins took place on Friday afternoon at the Bell Centre in Montreal and all of the fighters on tomorrow night's card made weight.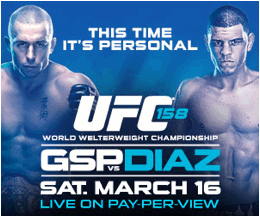 Tommorow night's card will be headlined by UFC welterweight champion Georges St-Pierre (170 lbs) meeting former Strikeforce welterweight champion Nick Diaz (169 lbs).
After the two fighters weighed in, the stare down did not last very long as UFC officials stepped in between both fighters before any altercation could take place.
Every other fighter on the card was on weight and the full UFC 158 weigh-in results are below.
Main Card: (PPV – 10 p.m. ET/7 p.m. PT)
Georges St-Pierre (170) vs. Nick Diaz (169)
Carlos Condit (169) vs. Johny Hendricks (171)
Jake Ellenberger (170) vs. Nate Marquardt (171)
Nick Ring (183) vs. Chris Camozzi (185)
Mike Ricci (156) vs. Colin Fletcher (155)
Preliminary Card: (FX – 8 p.m. ET/5 p.m PT)
Patrick Cote (169) vs. Bobby Voelker (169)
Antonio Carvalho (145) vs. Darren Elkins (145)
Dan Miller (170) vs. Jordan Mein (170)
John Makdessi (155) vs. Daron Cruickshank (155)
Preliminary Card: (Facebook – 6:35 p.m. ET/3:35 p.m. PT)
Rick Story (169) vs. Quinn Mulhern (168)
TJ Dillashaw (135) vs. Issei Tamura (135)
George Roop (135) vs. Reuben Duran (135)