Bellator 94 took place this past Thursday night and Saad Awad was among the fighters that received a medical suspension from the Florida Boxing Commission.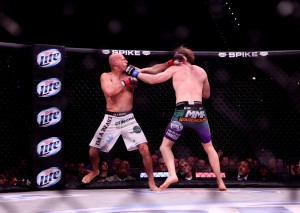 TheMMAReport.com requested the medical suspensions from the Florida Boxing Commission and they were emailed on Monday.
Along with the medical suspensions, the commission confirmed that there were not any drug tests administered.
Bellator 94 took place from the USF Sun Dome on the campus of the University of South Florida in Tampa, Florida and featured the finals of the light heavyweight and lightweight tournaments.
Awad was defeated at the end of the second round by David Rickels in the lightweight final. He received a 30 days suspension from the commission for a fractured left hand. At the post fight press conference, he confirmed that he had broken his hand in the first round.
The full Bellator 94 medical suspensions are below:
Saad Awad: Suspended 30 days and received insurance claim form for left hand fracture
Ronnie Mann: Issued an insurance claim form for right shoulder injury
Julien Williams: Issued an insurance claim form for right shoulder injury
Kenny Moss: Issued an insurance claim form for right shoulder injury
Rob Horton: Suspended 30 days and received insurance claim form for left knee injury
Patrick Ceboble: Issued an insurance claim form for possible right hand fracture
Tony Fryklund: Issued an insurance claim form for eye laceration
Heather Clark: Indefinite suspension for right arm fracture unless cleared by an orthopedic doctor