Bellator MMA concluded its eighth season this past Thursday night at Revel in Atlantic City as Pat Curran retained the featherweight title, Doug Marshall won the middleweight tournament and Frodo Khasbulaev won the featherweight tournament.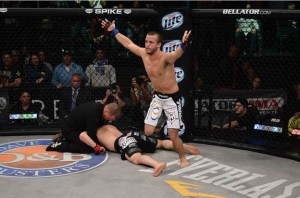 This was the first time that Bellator has held an event at Revel as the organization had previously held fight cards in Atlantic City at Boardwalk Hall at Caesars.
During Thursday night's card, Bellator announced that they would be returning to Revel in November which will be during season nine.
I was in Atlantic City for the fight card and Bellator had a good turn out for the card and the fans seemed to enjoy the fight card. Revel has been in the news of late due to money issues with the casino, but Bellator MMA Chairman and CEO Bjorn Rebney does not seem concerned with these issues after he had conversations with the casino.
Curran retains title and will face Daniel Straus next
Curran made his second title defense, which both of them came during the eighth season. He had an impressive performance over Shahbulat Shamhalaev and his next title defense will be against Daniel Straus. Straus told me two weeks ago that he is able to resume training after a recent injury and would be ready to go for the title fight during the Summer Series if Bellator wanted that.
After the Bellator 95 post fight press conference, Curran told me that it's up to Bellator when he will take on Straus. If Bellator asked him to return in the Summer Series, he would talk to his team before making the final decision. With Bellator only planning for three shows in the Summer Series and having three tournaments, it appears that Curran may not return until the fall.
Summer Series will begin in June
With the eighth season now being over, Bellator will now look forward to the Summer Series. The Summer Series will consist of three fight cards and this season will last over three months. During the Bellator 95 broadcast, Bellator announced that there will be three tournaments which will be in the bantamweight, light heavyweight and heavyweight divisions.
Bellator has not officially announced the exact date of when the Summer Series will begin, but look for the first show in the Summer Series to take place during the month of June.
When it comes to the tournaments, Travis Marx and Rodrigo Lima won bantamweight tournament qualifiers and they are the only fighters that have been announced to be in the next tournament. Muhammed "King Mo" Lawal will enter the light heavyweight tournament and it's unknown who will be in the heavyweight tournament.
During my post fight interview with Rebney, I asked him about how he plans to have three tournaments take place on the Summer Series.
"We are going to get very creative on timing," Rebney told TheMMAReport.com. "We are going to get very creative in terms of how we are going to structure it and how we are going to put it together.  I have almost got the math worked out now. We know who will be in. In terms of being able to televised the fights and being able to make it work. I have been working through it. Spike gives us such great flexibility and it's so great to work with them because they get it and they just don't look at you at say 'it's a two hour block.' They have flexibility. They can move and adjust, they can expand and contract. We have some cool stuff that we are going to do thats going to give me a chance to do it."
Eddie Alvarez attends Bellator 95
Former Bellator lightweight champion Eddie Alvarez attended Bellator 95 this past Thursday night, which may have been a surprise to some observers. For me, this was not a surprise as Alvarez is from Philadelphia and had friends fighting on the card. I asked Rebney about Alvarez being in attendance and he admitted that he had a brief conversation with his former champion.
"What I can say is that Ed and I had a good relationship for a lot of years. We went through a tough period as this thing got ignited and caught a little bit of fire and we are talking again, which is good, which is awesome. Because talking is the first step in getting something resolved and make this thing work so it works for Eddie and works for Bellator. I had a chance to talk to Eddie briefly tonight, it was good and was good to talk to Ed again."
Many fans would like to see Bellator just let Alvarez go to the UFC, but Bellator strongly believes they matched the contract offer from the UFC. If the two sides do not come to a settlement, this will be decided in a court of law.