Sixteen of the fighters that took part in this past Saturday night's The Ultimate Fighter 17 Finale received a medical suspension from the Nevada State Athletic Commission following the fight card.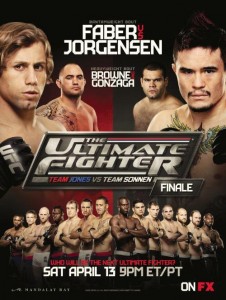 Miesha Tate and Collin Hart received the longest suspensions as both of them could be out six months if they are not cleared by a doctor.
The Nevada State Athletic Commission released the medical suspensions on Monday, which were obtained by TheMMAReport.com.
The Ultimate Fighter 17 Finale was headlined by Urijah Faber defeating Scott Jorgensen in the fourth round by submission and Kevin Gastelum defeating Urijah Hall by split decision to win the reality show.
The complete list of the medical suspensions for The Ultimate Fighter 17 Finale are below:
Urijah Faber: Suspended until May 14th and no contact until May 5 for pain in right hand
Scott Jorgensen: Must have right wrist x-rayed, if positive then needs orthopedic doctor clearance. Minimum suspension until May 14th with no contact until May 5
Kelvin Gastelum: Must have right forearm x-rayed, if positive then needs orthopedic doctor clearance. Minimum suspension until May 14th with no contact until May 5
Cat Zingano: Must have left hand x-rayed, if positive then needs orthopedic doctor clearance. Minimum suspension until May 14th with no contact until May 5
Miesha Tate: Must have ear, nose and throat doctor clearance on nose or no contest until October 11. Minimum suspension until June 13 with no contact until May 29.
Gabriel Gonzaga: Suspended until May 29 with no contact until May 14
Bubba McDaniel: Suspended until May 29 with no contact until May 14
Kevin Casey: Suspended until June 13 with no contact until May 29
Collin Hart: Must have nasal fracture and left ankle cleared by doctor or no contest until October 11. Minimum suspension until May 29th with no contact until May 14
Luke Barnatt: Suspended until May 29 with no contact until May 14 due to right eye laceration
Jimmy Qunlan: Suspended until May 29 and no contact until May 14
Bristol Marunde: Suspended until May 14 with no contact until May 5 due to laceration
Cole Miller: Suspended until May 5 with no contact until April 29
Maximo Blanco: Suspended until May 14 with no contact until May 5
Sam Sicilia: Suspended until May 14 with no contact until May 5 for right thumb injury and right eye laceration
Justin Lawrence: Suspended until May 14 and no contact until April 29