The UFC on FUEL TV 9 fight night bonuses went to Brad Pickett, Mike Easton, Conor McGregor and Reza Madadi.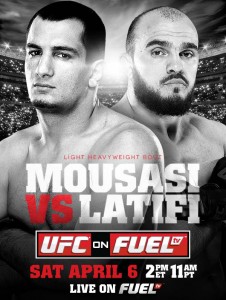 UFC President Dana White announced the bonuses during the post fight press conference and each bonus is worth $60,000.
The fight of the night went to Brad Pickett and Mike Easton, which Pickett won by split decision. The two judges that scored the fight for Pickett had it 30-27 and the other judge scored it 29-28 for Easton.
Pickett has now won four fight night bonuses in the UFC and this is the third time he has won the fight of the night bonus. For Easton, this is the first time he has won a bonus in the UFC.
McGregor defeated Marcus Brimage on the preliminary card and won the knockout of the night bonus. This was the UFC debut of McGregor and the knockout win was his 12th career win by knockout and his 10th career first round victory.
The submission of the night went to Madadi who defeated Michael Johnson in the main event of the preliminary card. He won the fight in the third round by d'arce choke and it's his eighth career win by submission. He improves to 2-1 in the UFC and this is the first time that The Ultimate Fighter alum has won a fight night bonus.