The final episode of The Ultimate Fighter 17 happened on Tuesday night and the final of the reality show is now set as it will be an all Team Sonnen Final as Kelvin Gastelum will meet Urijah Hall.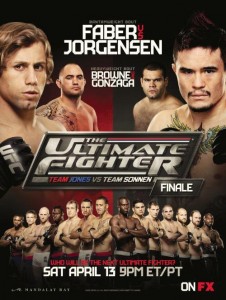 Kelvin defeated Josh Samman in the first semifinal bout on tonight's episode as he submitted him in the first round with a rear-naked choke.
He was able to control the bout from the opening bell and was able to take Samman down in the first minute of the fight. Once the fight made it to the ground, Kelvin was able to control the action with top position and defended the submission attempts of his opponent.
Samman would be able to get back to his feet for a moment, but Kelvin took the fight back to the ground. Once on the ground, he would eventually be able to get the back of Samman and locked in the rear-naked choke and got the submission win.
In the second semifinal bout Urijah defeated Dylan Andrews by TKO in the second round. Urijah was able to keep the fight on the feet the entire first round and Dylan was tentative in throwing his punches. After the first round was complete, Chael Sonnen told Urijah that he was scoring with his punches and Jon Jones told Dylan that he only threw five punches and needed to be more active.
During the second round, Dylan would be able to take the fight to the ground. However, Urijah went for a kimura submission on the ground. After working for the submission, he switched to throwing strikes from the bottom. He would transition to get on top of Dylan and landed several punches before the referee came in to stop the fight.
They will now meet in the final on Saturday night at The Ultimate Fighter 17 Finale and there fight will take place on the main card broadcast on FX, which will begin at 9 p.m. ET/6 p.m. PT.