Bellator put on its first Summer Series event of the Spike TV era a week ago which featured King Mo delivering a one-punch knockout to Seth Petruzelli to advance to the finals of the Bellator light heavyweight tournament.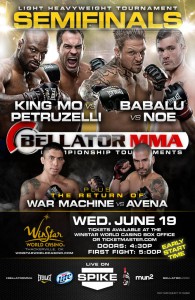 According to a Nielsen source, Bellator 96's preliminary number did not crack the Nielsen top-100 cable shows for the night and landed at roughly 480k total viewers.
The updated number which now includes the DVR number brings the show up roughly 10% to 526k total viewers.  Keeping it inline with Fight Masters 13% increase for the same night.
As a reminder, this adjustments was due to the live + 3 (DVR) numbers which will be released every Tuesday. For those new to Nielsen ratings terminology, live + 3 is a equal to a total of live viewership plus 3 days worth of DVR usage.
Stay with TheMMAReport.com for ongoing coverage of the Nielsen ratings battle between Bellator MMA and the UFC.