Bellator MMA will kick off the 2013 Summer Series next week on Wednesday from the WinStar World Casino in Thackerville, Oklahoma and the main card on Spike TV will begin at 8 p.m. ET.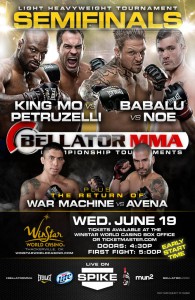 Bellator MMA Chairman and CEO Bjorn Rebney confirmed the start time with TheMMAReport.com on Thursday and the main card will be a two hour broadcast on Spike TV leading up to the debut of Fight Master: Bellator MMA.
Bellator 96 will feature the beginning of the Summer Series light heavyweight and heavyweight tournaments and three of the four tournament fights are scheduled to be aired live on the main card.
Both light heavyweight tournament bouts will be shown live during the main card as Muhammed "King Mo" Lawal (9-2, 1NC) faces Seth Petruzelli (14-7) and Renato "Babalu" Sobral (37-10) meets Jacob Noe (11-2). Only one of the heavyweight bouts will be shown on the main card as Vitaly Minakov (10-0) faces Ron Sparks (8-1).
The other heavyweight tournament bout will be season seven tournament finalist Rich Hale (21-5) facing Vinicius "Spartan" Queiroz (6-3) and that fight will headline the preliminary card. Rebney told TheMMAReport.com that he hopes to get the Hale-Spartan fight on the main card.
"We really got five fights that belong on television," Rebney said. "Both of the semifinals at 265 belong on TV and both of the semifinals at light heavy being on TV. Right now, we have scheduled for television, King Mo is the main, Babalu is the co-main, Minakov fight against Sparks and we also have the War Machine fight against Blas. That is locked in for TV and as timing goes, obviously we have another incredible fight on the show as well, the Spartan fight against Rich Hale. My hope is we get out of the show and we got all five of those fights on TV."
The current Bellator 96 card is below and Rebney will be a guest on next week's edition of "The MMA Report Live" to preview this fight card and discuss other topics about his promotion.
Main Card: (Spike TV – 8 p.m. ET/5 p.m. PT)
Muhammed "King Mo" Lawal (9-2. 1NC) vs. Seth Petruzelli (14-7) *
Renato "Babalu" Sobral (37-10) vs. Jacob Noe (11-2) *
Vitaly Minakov (10-0) vs. Ron Sparks (8-1) **
War Machine (12-4) vs. Blas Avena (8-6)
Preliminary Card: (Spike.com – 5:00 p.m. ET/2 p.m. PT)
Jerrod Card (12-5) vs. Chas Skelly (10-0)
Keith Berry (14-10) vs. Cortez Coleman (9-3)
Mike Maldonado (4-0) vs. Chavous Smith (2-3)
Keith Miner (5-4) vs. Damon Jackson (4-0)
Rich Hale (21-5) vs. Ryan Martinez (9-2) **
Jermiah O'Neil (12-21) vs. Raphael Butler (5-0)
Brandon Halsey (3-0) vs. Joe Yager (5-1)
Brandon Girtz (8-2) vs. Derek Campos (9-3) ***
Justin McNally (1-1) vs. Steven Artoff (5-1)
* – Light Heavyweight Tournament Semifinal
** – Heavyweight Tournament Semifinal
*** – Light Heavyweight Tournament Reserve Fight