The opening fight on the Bellator 96 main card was a welterweight bout as War Machine won his Bellator debut with a TKO victory over Blas Avena.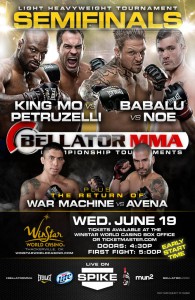 War Machine opened up as the aggressor as he was able to close off the cage. However, Avena was able to take the fight to the ground. War Machine would be able to get back to his feet and they began to brawl.
War Machine went for a takedown at the one minute mark of the round, which he was able to do. Avena worked his way back to his feet and the fighters grappled against the cage. After Avena landed knees in the clinch position, War Machine backed away and the fight moved back to the center of the cage.
After Avena grabbed War Machine against the fence, War Machine used a leg trip to take the fight to the ground. Once on the ground, War Machine was able to pass to side control and lock in a crucifix position. War Machine landed multiple left hand punches and the referee came in to stop the fight.
War Machine (13-4) has now won back to back fights and this was his first fight since the end of 2011. His next fight in the Bellator cage will come later this year as he is expected to be in the season nine welterweight tournament.
Bellator 96 Results:
War Machine def. Blas Avena via TKO (strikes) – Round 1, 3:55
Damon Jackson def. Keith Miner via TKO (strikes) – Round 1, 2:00
Raphael Butler def. Jermiah O'Neil via TKO (strikes) – Round 1, 2:57
Ryan Martinez def. Rich Hale via KO (strikes) – Round 1, 2:19
Brandon Halsey def. Joe Yager via split decision (30-28, 28-30, 30-28)
Derek Campos def. Brandon Girtz via unanimous decision (29-28, 29-28, 29-28)
Justin McNally def. Steven Artoff via verbal submission (triangle choke) – Round 1, 2:44