The Bellator 96 Weigh-Ins took place on Tuesday afternoon at the Mist Nightclub inside the WinStar World Casino and seven of the eight tournament fighters were on weight.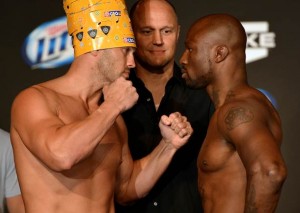 Jacob Noe weighed in at 206.2 pounds on his first attempt and was given extra time to make weight. He weighed in at 206 pounds on his second attempt and his fight with Renato "Babalu" Sobral is now official. After Noe made weight, he went to his Facebook page to explain what happened today
"Made weight but not at the first weigh in thought," Noe wrote on Facebook. "I weighed 204 but on the official scale 206.2. So didn't make the first weigh ins for the press. Spit a lot used the bathroom jumped back on the scale and weighed 206.0."
All of the other tournament fighters did make weight for their tournament fights on their first attempt.
Several fighters on the preliminary card did miss weight on their first attempt with the fighters being Keith Berry, Chavous Smith, Derek Campos and Steven Artoff. Smith and Artoff were able to make weight after being allowed additional time to make weight. However, Berry and Campos were unable to make weight and they will be fined a portion of their purse.
The complete Bellator 96 weigh-in results are below and stay tuned to TheMMAReport.com for updates if Noe is able to just the additional weight.
Main Card: (Spike TV – 8 p.m. ET)
Muhammed "King Mo" Lawal (205.2) vs. Seth Petruzelli (204.8)
Renato "Babalu" Sobral (204.4) vs. Jacob Noe (206) *
Vitaly Minakov (246) vs. Ron Sparks (264.6)
War Machine (171) vs. Blas Avena (170)
Preliminary Card: (Spike.com – 6 p.m. ET)
Jarrod Card (145.7) vs. Chas Skelly (145.9)
Keith Berry (186.4) vs. Cortez Coleman (185.6) **
Mike Maldonado (135.8) vs. Chavous Smith (135.9) ***
Keith Miner (155.8) vs. Damon Jackson (154.8)
Ryan Martinez (263.8) vs. Rich Hale (240.1)
Jeremiah O'Neal (260.5) vs. Raphael Butler (261)
Brandon Halsey (205) vs. Joe Yaeger (205.5)
Brandon Girtz (155.7) vs. Derek Campos (157.2) ****
Justin McNally (135.4) vs. Steven Artoff (135.6) *****
* – Noe missed weight on first attempt and made weight on second attempt
** – Berry was unable to make weight and will forfeit a portion of his purse to Coleman
*** – Smith missed weight on first attempt and made weight on second attempt
**** – Campos was unable to make weight and will forfeit a portion of his purse to Girtz
***** – Artoff missed weight on first attempt and made weight on second attempt