The UFC announced recently that they would be returning to Boston for the first time since 2010 on August 17th for UFC on FS1 #1, but a report today in the Boston Herald raised questions about the event.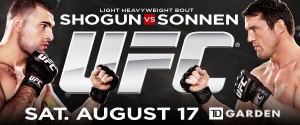 According to the report by the newspaper, there is a state law in Massachusetts that requires mixed martial artists and boxers to have social security numbers to participate in the state.
The UFC has released a statement over the requirements in the state of Massachusetts and the promotion is working on this situation to ensure that all of the athletes on the card will be able to compete.
"For the first time since 2010, the UFC is very excited to return to TD Garden in Boston on Saturday, Aug. 17 with a live event card to coincide with the launch of the FOX Sports 1 network," the UFC said in a statement. "Tickets went on pre-sale today for the event and are already off to a tremendous start."
"There were some questions that surfaced regarding licensing requirements for mixed martial artists and boxers to have social security numbers in order to compete in the state of Massachusetts. Last week, these requirements were brought to UFC's attention and we immediately began working to ensure that all athletes affected by this are in full compliance. We are continuing to work on this and anticipate a positive outcome."
"We look forward to bringing another successful event to Boston during an incredible week for sports fans in the city."