The next World Series of Fighting event will take place on August 10th from the Citizens Business Bank Arena in Ontario, California and tickets for the event will go on sale today at 1 p.m. ET/10 a.m. PT.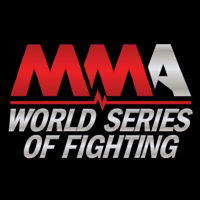 WSOF officials have announced the fights that will take place on the main card on the NBC Sports Network and the card will feature Tyrone Spong (1-0) vs. Angel Deanda (11-2), Marlon Moraes (10-4) vs. Brandon Hempleman (9-1), Ray Sefo (2-1) vs. Dave Huckaba (20-5), Tyson Griffin (10-6) vs. J.Z. Cavalcante (17-7-1) and Nick Newell (9-0) vs. Keon Caldwell (9-1).
"This will be, without a doubt, our finest event to date in terms of the talent lined up from top to bottom," said Sefo. "As a promoter, I am extremely proud of this fight card that our company has assembled for our fourth live event and, as a fighter who still has the burning desire to compete, I am naturally excited to have the opportunity to step in the cage and show what I can do in there against a seasoned opponent."
Tickets for WSOF 4 will be available beginning today at 1 p.m. ET/10 a.m. PT at www.axs.com, Citizens Business Bank Arena box office, and charge-by-phone at 888-929-7849.
The current WSOF 4 card is below and the organization will be adding fights to the preliminary card in the coming weeks.
Main Card: (NBC Sports Network – 10:30 p.m. ET/7:30 p.m. PT)
Tyrone Spong (1-0) vs. Angel Deanda (11-2)
Marlon Moraes (10-4) vs. Brandon Hempleman (9-1)
Ray Sefo (2-1) vs. Dave Huckaba (20-5)
Tyson Griffin (10-6) vs. J.Z. Cavalcante (17-7-1)
Nick Newell (9-0) vs. Keon Caldwell (9-1)
Preliminary Card: (WSOF.com – 8:00 p.m. ET/5 p.m. PT)
Jorge Santiago (25-11) vs. Gerald Harris (21-5)