Chael Sonnen will be moving back down to the middleweight division after his light heavyweight bout against Mauricio "Shogun" Rua at next months UFC Fight Night card in Boston.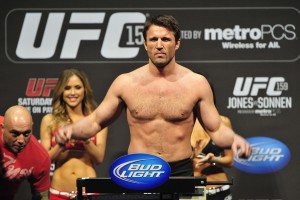 Sonnen made the announcement on last night's edition of "UFC Tonight" on FUEL TV and stated that he is interested in matchups against Vitor Belfort and Wanderlei Silva.
"I'll return to middleweight after beating Shogun," Sonnen said. "There're two guys I want to get matched up with: Vitor Belfort, because he's awesome and he's on an incredible roll. And Wanderlei Silva, who I've heard is going back to middleweight. The landscape has completely changed. I've got a new contract and I'm returning to the weight class."
Along with announcing his plan to move back to the middleweight division, Sonnen said he has signed a new fight fight deal with the UFC and is now training at Reign in Southern California with current UFC middleweight Mark Munoz.
"I've moved to Southern California and am training at Reign with Mark Munoz. My new contract, which is a five-fight deal, was finalized today."
Sonnen (27-13-1) will look for his first win since the beginning of 2012 at UFC Fight Night on August 17th against Shogun and snap his two fight losing streak.