All of the fighters that were on last weekends UFC 162 card were drug tested by the Nevada State Athletic Commission and all of the drug test came back clean.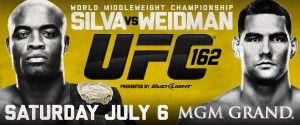 Nevada State Athletic Commission Executive Director Keith Kizer released the information to the media on Friday afternoon.
Kizer told MMA Junkie that Chris Leben did receive a therapeutic use exemption for the prescription medication Suboxone and there were not any exemptions for testosterone replacement therapy (TRT). Kizer recently told TheMMAReport.com that a fighter has not been granted an exemption for TRT since UFC 148 last year.
UFC 162 took place last Saturday night at the MGM Grand Garden Arena in Las Vegas and was headlined by Chris Weidman defeating Anderson Silva in the second round by knockout to win the UFC middleweight title.