World Series of Fighting 4 will take place on August 10th from the Citizens Business Bank Arena in Ontario, California and the organization has announced that the card will be headlined by Tyrone Spong facing Angel DeAnda.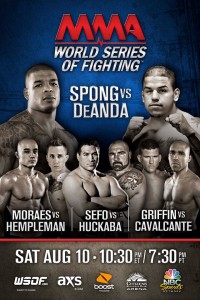 Spong and DeAnda will headline the five fight main card which will be televised by the NBC Sports Network at 10:30 p.m. ET/7:30 p.m. PT.
Spong (1-0) made his MMA debut at the inaugural WSOF event last year and defeated Travis Bartlett in the first round by knockout.
"I'm excited to make my return to MMA, and I'm honored that World Series of Fighting trusts me to headline the card," Spong said. "Angel is a dangerous striker, but he hasn't fought anyone with my skills. I think fans are going to get to see a spectacular finish."
DeAnda (11-2) is currently on a four fight winning streak with all of those wins coming by TKO and three of those wins coming in the first round. Ten of his career victories have come by TKO/KO and eight of them coming in the first round.
"I know Tyrone is a legend in kickboxing, but this is a different sport," DeAnda said. "With four-ounce gloves on, MMA is a whole different game. Tyrone is going to find that out real quick."
The current WSOF 4: Spong vs. DeAnda card is below and the promotion will be adding more fights to the preliminary card shortly.
Main Card: (NBC Sports Network – 10:30 p.m ET/7:30 p.m. PT)
Tyrone Spong (1-0) vs. Angel DeAnda (11-2)
Marlon Moraes (10-4-1) vs. Brandon Hempleman (9-1)
Ray Sefo (2-1) vs. Dave Huckaba (20-5)
Nick Newell (9-0) vs. Keon Caldwell (9-1)
Tyson Griffin (16-6) vs. Gesias Cavalcante (17-7-1)
Preliminary Card: (WSOF.com – 8 p.m. ET/5 p.m. PT)
Jorge Santiago (25-11) vs. Gerald Harris (21-5)