Anderson Silva was among nine fighters that received a medical suspension from the Nevada State Athletic Commission following Saturday night's UFC 162.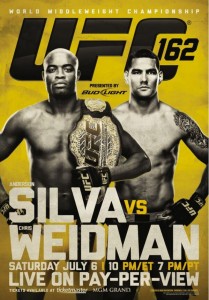 The commission released the medical suspensions on Monday afternoon and the suspensions were forwarded to TheMMAReport.com after they were requested.
UFC 162 took place this past Saturday night at the MGM Grand Garden Arena and was headlined by Chris Weidman defeating Silva in the second round to win the UFC middleweight title.
The longest suspensions that were handed out by the commission were to Dennis Siver, Kazuki Tokudome and David Mitchell. Tokudome and Mitchell will have to be cleared by a doctor and Siver is suspended until October 5th.
The complete UFC 162 medical suspensions are below:
Anderson Silva: Suspended until 08/21/13 with no contact until 08/06/13
Charles Oliveira: Suspended until 08/06/13 with no contact until 07/28/13
Tim Boetsch: Suspended until 08/06/13 with no contact until 07/28/13
Dennis Siver: Suspended until 10/05/13 with no contact until 09/05/13
Kazuki Tokudome: Must have right orbital blowout fracture cleared by an ENT or ophthalmologist or no contest until 01/03/14. Minimum suspension no contest until 08/21/13 and no contact until 08/06/13
Dave Herman: Suspended until 08/21/13 with no contact until 08/06/13
Rafaello Oliveira: Suspended until 08/21/13 with no contact until 08/06/13 (left knee pain)
Seth Baczynski: Suspended until 08/06/13 with no contact until 07/28/13 (right eyebrow and nose lacerations)
David Mitchell: Must have post concussion clearance from a sports medicine doctor and minimum suspension. No contest until 10/05/13 and no contact until 09/05/13