In the co-main event of UFC 162, former lightweight champion Frankie Edgar secured his first win since 2011 with a decision victory over Charles Oliveira.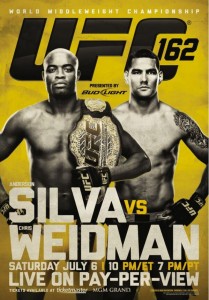 The action opened with Edagr as the aggressor and landed a right hand that stunned Oliveira and the fight went to the ground. Edgar moved the fight back the feet and Oliveira wanted to take the fight to the ground, which he did.
Edgar would reverse the position and Oliveira looked for submissions from his back. Edgar would move back to his feet and stay away from the submissions of Oliveira. Edgar began to work his combinations before he used a leg trip to take the fight to the ground.
He elected to not follow Oliveira to the ground and the fight returned to the standing position. With 20 seconds left in the round, Edgar took the fight to the ground and the fight remained in this position until the round ended.
In the second round, they continued to have a high pace fight with each fighter landing strikes. Edgar caught a kick of Oliveira but did not go into his guard. Oliveira would return to his feet and once again took Oliveira down and went into his guard this time.
Oliveira would work his way back to his feet but Edgar landed strikes as he got up. They continued to strike with each other until the final seconds of the round until Edgar secured a takedown. As he secured the takedown, Oliveira went for a guillotine choke but he ran out of time as the round concluded.
The fighters kept up the high pace in the final round as Edgar landed several big punches. Edgar pushed Oliveira to the ground but the action returned to the feet when Edgar did not go into the guard of Oliveira. Edgar would stun Oliveira with several punches and ended up going to the ground. Edgar had top position and the fight ended in this position.
All three judges scored the fight for Edgar (16-4-1) and this is his first win since UFC 136 over Gray Maynard in 2011.
UFC 162 Results:
Frankie Edgar def. Charles Oliveira via unanimous decision (30-27, 29-28, 30-27)
Tim Kennedy def. Roger Gracie via unanimous decision (30-27, 30-27, 29-28)
Mark Munoz def. Tim Boetsch via unanimous decision (30-26, 30-27, 29-28)
Cub Swanson def. Dennis Siver via TKO (strikes) – Round 3, 2:24
Andrew Craig def. Chris Leben via split decision (29-28, 28-29, 30-27)
Norman Parke def. Kazuki Tokudome via unanimous decision (30-27, 30-27, 29-28)
Gabriel Gonzaga def. Dave Herman via TKO (strikes) – Round 1 :17
Edson Barboza def. Rafaello Oliveira via TKO (leg kicks) – Round 2, 1:44
Brian Melancon def. Seth Baczynski via TKO (strikes) – Round 1, 4:59
Mike Pierce def. David Mitchell via TKO (strikes) – Round 2, 2:55