The opening bout of the UFC 162 preliminary card was a welterweight bout as Mike Pierce won his fourth straight fight as he defeated David Mitchell by TKO in the second round.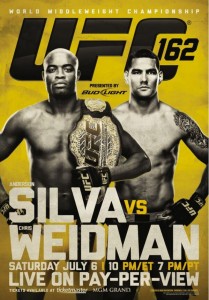 The bout opened with Pierce looking to land a big punch and ended up looking for a takedown against the fence. While the fighters were in the clinch position, they both landed strikes with Mitchell landing more frequently.
After clinching for several minutes, they separated and Pierce landed a low kick. After he landed the leg kick, he went to back to clinching and the round would end in this position.
As the second round opened, Pierce went back to the clinch against the cage. Mitchell would be able to break away but Pierce would once again close the distance and clinch against the fence. Once again, Mitchell would break away and they would end up clinching in the middle of the cage.
As the fighters were clinching against the cage, Pierce backed away and landed a left hand that dropped Mitchell. After Pierce landed several strikes on the ground, referee Steve Mazzagatti came in to call the fight.
Pierce (17-5) has now won four fights in a row with two of his last three wins coming by TKO/KO. Mitchell (12-3) has now lost three of his four fights in the UFC and he could be released by the UFC following his defeat tonight.
UFC 162 Results:
Mike Pierce def. David Mitchell via TKO (strikes) – Round 2, 2:55