The final bout on the UFC on FOX 8 preliminary card was a lightweight bout and Jorge Masvidal scored a submission with one second left in the round as he handed Michael Chiesa his first defeat.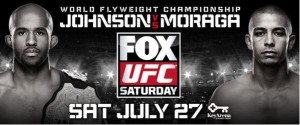 As the opening bell sounded, Chiesa wasted little time and immediately looked for a takedown. He would be able to get the fight to the ground but Masvidal would work his way back to his feet.
They would clinch against the fence and Chiesa would drop Masvidal and went for a submission on the ground. He would not be able to get the submission and Masvidal got back to his feet and landed a big right hand. Chiesa would recover from the punch and they continued to exchange strikes. Before the round would come to an end, each fighter would land significant strikes and the fight moved into the second round.
In the second round, Chiesa took the fight to the ground in the first 20 second of the round but Masvidal was able to lock in a guillotine choke. Chiesa was able to escape and they grappled against the fence with Chiesa working to get the fight to the ground.
After separating from each other, Masvidal would catch a kick and take the fight to the ground. While on the ground, Masvidal landed a series of punches and would pass to several positions while landing strikes. After being unable to finish the fight with strikes, Masvidal looked for submission. He initialy looked for a rear-naked choke but ended up working in a d'arce choke and Chiesa would tap with one second left in the round.
Masvidal (25-7) has now won three fights in a row and this is his second career win by submission.
UFC on FOX 8 Results:
Jorge Masvidal def. Michael Chiesa via submission (d'arce choke) – Round 2, 4:59
Danny Castillo def. Tim Means via unanimous decision (29-28, 29-28, 29-28)
Melvin Guillard def. Mac Danzig via TKO (strikes) – Round 2, 2:47
Daron Cruickshank def. Yves Edwards via split decision (30-27, 27-30, 30-27)
Ed Herman def. Trevor Smith via split decision (30-27, 27-30, 29-28)
Germaine de Randamie def. Julie Kedzie via split decision (30-27, 28-29, 29-28)
Justin Salas def. Aaron Riley via split decision (29-28, 28-29, 29-28)
Yaotzin Meza def. John Albert via submission (rear-naked choke) – Round 2, 2:49