UFC on FOX 8: Road to the Octagon will premiere tomorrow on Fox at 2:30 p.m. ET/11:30 a.m. PT and the show will preview next Saturday's card that will come from KeyArena in Seattle.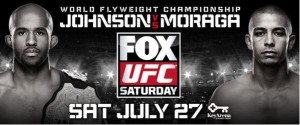 The show will preview the main event title fight as Demetrious Johnson defends the UFC flyweight title against John Moraga, Rory MacDonald faces Jake Ellenberger and Robbie Lawler meets Bobby Voelker.
The UFC has released a preview video of tomorrow's show and is available below.