Rory MacDonald was able to effectively land his jab and defeated Jake Ellenberger by unanimous decision in the co-main event of UFC on FOX 8.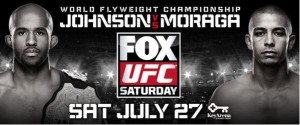 At the start of the fight, MacDonald landed the first strike but they both started the fight in a defensive mode.
MacDonald was able to use his reach to land his jab and Ellenberger attempted to find his range. In typical Ellenberger fashion, he was loading up his strikes but MacDonald was able to stay out of range and the fight moved into the second round.
As the second round opened, they continued to have a striking battle and Ellenberger struggled to be able to close the distance. MacDonald continued to throw his jab and Ellenberger went for a takedown which was unsuccessful.
They continued to strike with each other but MacDonald did look for a takedown but Ellenberger stopped the attempt. They would exchange punches until the end of the round and the fight moved into the final round.
In the final round, Ellenberger continued to struggle to get on the inside of MacDonald throughout the round. He was able to get a takedown in the final minute of the fight but it was to late and MacDonald won the fight on all three judges scorecards.
MacDonald (15-1) has won five in a row and continues his rise up the UFC welterweight division and he could be looking at a title shot in his future.
UFC on FOX 8 Results:
Rory MacDonald def. Jake Ellenberger via unanimous decision (30-27, 29-28, 30-27)
Robbie Lawler def. Bobby Voelker via KO (kick) – Round 2, :24
Liz Carmouche def. Jessica Andrade via TKO (strikes) – Round 2, 3:57
Jorge Masvidal def. Michael Chiesa via submission (d'arce choke) – Round 2, 4:59
Danny Castillo def. Tim Means via unanimous decision (29-28, 29-28, 29-28)
Melvin Guillard def. Mac Danzig via TKO (strikes) – Round 2, 2:47
Daron Cruickshank def. Yves Edwards via split decision (30-27, 27-30, 30-27)
Ed Herman def. Trevor Smith via split decision (30-27, 27-30, 29-28)
Germaine de Randamie def. Julie Kedzie via split decision (30-27, 28-29, 29-28)
Justin Salas def. Aaron Riley via split decision (29-28, 28-29, 29-28)
Yaotzin Meza def. John Albert via submission (rear-naked choke) – Round 2, 2:49