The UFC will return to Seattle next Saturday night for UFC on FOX 8 from KeyArena and the fight card will be headlined by a title fight.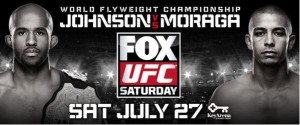 In the main event, Demetrious Johnson (17-2-1) will make his second UFC flyweight title defense as he is challenged by John Moraga (13-1).
Also on the main card on FOX will be Rory MacDonald (14-1) vs. Jake Ellenberger (29-6), Robbie Lawlor (20-9, 1NC) vs. Bobby Voelker (24-9) and Liz Carmouche (8-3) vs. Jessica Andrade (9-2).
The UFC on FOX 8 video preview and fight card are below:
Main Card: (FOX – 8 p.m. ET/5 p.m. PT)
Demetrious Johnson (17-2-1) vs. John Moraga (13-1)
Rory MacDonald (14-1) vs. Jake Ellenberger (29-6)
Robbie Lawlor (20-9, 1NC) vs. Bobby Voelker (24-9)
Liz Carmouche (8-3) vs. Jessica Andrade (9-2)
Preliminary Card: (FX – 5 p.m. ET/2 p.m. PT)
Michael Chiesa (9-0) vs. Jorge Masvidal (24-7)
Danny Castillo (15-5) vs. Tim Means (18-4-1)
Melvin Guillard (30-12-2, 1NC) vs. Mac Danzig (21-10-1)
Yves Edwards (42-19-1) vs. Daron Cruickshank (12-3)
Trevor Smith (10-3) vs. Ed Herman (20-9, 1NC)
Julie Kedzie (12-11) vs. Germaine de Randamie (3-2)
Preliminary Card: (Facebook – 4:00 p.m. ET/1:00 p.m. PT)
Justin Salas (10-4) vs. Aaron Riley (30-13-1)
John Albert (7-4) vs. Yaotzin Meza (19-8)