World Series of Fighting 4 takes place on August 10th from the Citizens Business Bank Arena in Ontario, California and the promotion has announced the full fight card.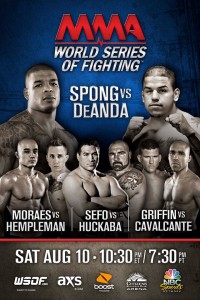 The preliminary card will begin at 8 p.m. ET/5 p.m. PT and feature several notable fighters including a welterweight bout as Jorge Santiago (25-11) meets Gerald Harris (21-5).
The main card will begin at 10:30 p.m. ET/7:30 p.m. PT on the NBC Sports Network and will be headlined by a light heavyweight bout as Tyrone Spong (1-0) faces Angel DeAnda (11-2). Also, Marlon Moraes (10-4-1) looks for his third victory in the WSOF cage as he is challenged by Brandon Hempleman (9-1).
The current WSOF 4: Spong vs. DeAnda fight card is below:
Main Card: (NBC Sports Network – 10:30 p.m ET/7:30 p.m. PT)
Tyrone Spong (1-0) vs. Angel DeAnda (11-2)
Marlon Moraes (10-4-1) vs. Brandon Hempleman (9-1)
Ray Sefo (2-1) vs. Dave Huckaba (20-5)
Nick Newell (9-0) vs. Keon Caldwell (9-1)
Tyson Griffin (16-6) vs. Gesias Cavalcante (17-7-1)
Preliminary Card: (WSOF.com – 8 p.m. ET/5 p.m. PT)
Jorge Santiago (25-11) vs. Gerald Harris (21-5)
Antonio McKee (28-5-2) vs. Lewis Gonzalez (8-0)
Lew Polley (12-4) vs. Hans Stringer (21-5-2)
Jared Papazian (15-10, 1NC) vs. John Robles (7-1)
Isaac Gutierrez (5-3) vs. Victor Valenzuela (12-6-2)