The ninth season of Bellator MMA will begin on September 7th and the fight card will feature a title fight, tournament fights and the finale of Fight Master.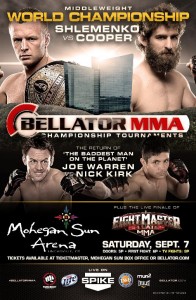 The event will come from the Mohegan Sun Casino in Uncasville, Connecticut and tickets for the event are on sale now at Ticketmaster.com or by visiting the Mohegan Sun Box Office, with tickets starting at just $30 dollars.
The main card on Spike TV will be headlined by Bellator middleweight champion Alexander Shlemenko  (47-7) making his first title defense against Brett Cooper (19-8).
Also on the main card will be the return of former Bellator champion Joe Warren, the final of Fight Master and the opening round of the season nine middleweight tournament.
The current Bellator 98: Shlemenko vs. Cooper fight card is below:
Main Card: (Spike TV – 8 p.m. ET/5 p.m. PT)
Alexander Shlemenko (47-7) vs. Brett Cooper (19-8)
Joe Warren (8-3) vs. Nick Kirk (10-2)
Justin Torrey (7-0) vs. Andreas Spang (8-3) *
Perry Filkins (7-1) vs. Jeremy Kimball (10-3) *
Brian Rogers (10-5) vs. Mikkel Parlo (9-1) *
Jason Butcher (6-0) vs. Giva Santana (18-2) *
TBA vs. TBA – Fight Master Final
Preliminary Card: (Spike.com – 6 p.m. ET/3 p.m. PT)
Derek Anderson (8-0) vs. Patricky Pitbull (10-4)
Jeff Nader (5-5) vs. Mike Mucitelli (5-0)
Dave Vitkay (12-12) vs. Brennan Ward (5-1)
Andrew Calandrelli (6-3) vs. Ryan Quinn (7-4-1)
Nick Piedmont (8-3-1) vs. Matt Bessette (11-4)
Glenn Allair (3-1) vs. Riso Disciullo (0-0)
Josh Diekman (12-5) vs. Parker Porter (5-3)
* – Middleweight Tournament Opening Round