Doug Marshall has been forced to pull out of his upcoming title fight against Bellator middleweight champion Alexander Shlemenko due to a broken hand and Shlemenko will now defend the title against Brett Cooper at Bellator 98.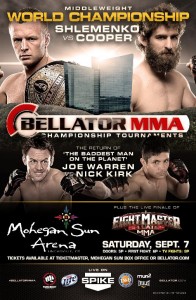 Bellator officials announced the change on Monday and the promotion used the new "Bellator Tournament Replacement Clause" as Bellator fighters and executives voted to determine their choice of which fighter would earn their title shot.
Bellator 98 takes place on September 7th at the Mohegan Sun in Connecticut and along with the title fight will feature the opening round of the season nine middleweight tournament.
Shlemenko (47-7) is currently on a ten fight winning streak and won the vacant Bellator middleweight title earlier this year when he defeated Maiquel Falcao at Bellator 88 in February. He won the fight by TKO in the second round and it was his eighth victory in Bellator.
Cooper (19-8) was a finalist in the season eight tournament where Marshall defeated him by knockout in the first round. The defeat snapped a six fight winning streak and he could not pass up the opportunity to face Shlemenko for the title.
"My goal has always been the same, get the belt," Cooper said. "I'm always making improvements and this is an incredible opportunity I'm not going to pass up. When we fought in 2011, it was an absolute war, and I've grown into a much different fighter over the last few years. I'm 26 years old, and this is my time to take the next step."
Cooper was scheduled to be in the upcoming middleweight tournament which takes place on this card. Replacing him in the tournament will be undefeated fighter Justin Torry (7-0) and he will face Andreas Spang (8-3). Also, Dan Cramer was initially announced to be in this tournament but he has been pulled from the tournament due to an injury and has been replaced by Jeremy Kimball (10-3) and he will meet Perry Filkins (7-1).
The event will broadcast LIVE starting at 8 p.m. ET/5 p.m. PT on Spike. The preliminary card will be streamed LIVE and FREE on Spike.com starting at 6 p.m. ET/3 p.m. PT. Tickets for the event are on sale now at Ticketmaster.com or by visiting the Mohegan Sun Box Office, with tickets starting at just $30 dollars.
The current Bellator 98: Shlemenko vs. Cooper fight card is below:
Main Card: (Spike TV – 8 p.m. ET/5 p.m. PT)
Alexander Shlemenko (47-7) vs. Brett Cooper (19-8)
Joe Warren (8-3) vs. Nick Kirk (10-2)
Justin Torrey (7-0) vs. Andreas Spang (8-3) *
Perry Filkins (7-1) vs. Jeremy Kimball (10-3) *
Brian Rogers (10-5) vs. Mikkel Parlo (9-1) *
Jason Butcher (6-0) vs. Giva Santana (18-2) *
Preliminary Card: (Spike.com – 6 p.m. ET/3 p.m. PT)
Derek Anderson (8-0) vs. Patricky Pitbull (10-4)
Jeff Nader (5-5) vs. Mike Mucitelli (5-0)
Dave Vitkay (12-12) vs. Brennan Ward (5-1)
Andrew Calandrelli (6-3) vs. Ryan Quinn (7-4-1)
Nick Piedmont (8-3-1) vs. Matt Bessette (11-4)
Glenn Allair (3-1) vs. Riso Disciullo (0-0)
Josh Diekman (12-5) vs. Parker Porter (5-3)
* – Middleweight Tournament Opening Round