The rematch that MMA fans have been waiting for in Bellator MMA is now booked as Bellator lightweight champion Michael Chandler will defend the title on November 2nd against Eddie Alvarez.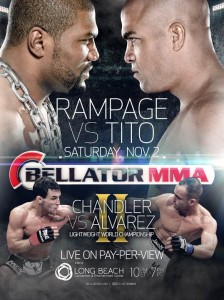 Bellator officials announced the fight booking on Tuesday morning after it was initially reported by MMA Junkie and ESPN.
Bellator 106 takes place on November 2nd from the Long Beach Convention Center and will be headlined by Quinton "Rampage" Jackson meeting Tito Ortiz in a scheduled three round light heavyweight bout.
Chandler and Alvarez initially met in 2011 when Alvarez was the champion and Chandler had just won the season four lightweight tournament. The fight took place at Bellator 58 in South Florida with Chandler winning the fight in the fourth round by submission.
"I've been cageside for more live fights than almost anyone on the planet," Bellator CEO & Chairman Bjorn Rebney said. "Without question, Chandler vs. Alvarez was the best MMA fight I've ever seen. I'm excited to be able to deliver this rematch to MMA fans. It's been a long time coming and we've had to jump over a lot of hurdles to get this done, but from the day we announced our PPV I promised fans that this card was going to be the deepest we've ever done, and we are well on our way. This is just the start."
Chandler (12-0) has had three fights since his win over Alvarez with two of those being for the Bellator title. He is coming off a 44 second knockout victory over David Rickels at Bellator 97 and is confident that he will remain the champion after the rematch with Alvarez.
"Without sounding too disrespectful, when I fought Eddie the first time in 2011, I didn't even know what it meant to be an MMA fighter," Chandler said. "Two years later, I've grown so much as a mixed martial artist, and there isn't a doubt in my mind on November 2nd, my hand will be raised and the belt will be around my waist. I have full confidence that I can take this fight wherever I want, whenever I want because I didn't even show much of my wrestling in that last fight and I was able to beat him just with my standup. My ground game has always been there, and I've taken my striking to a whole new level since the last time we met. I feel like I have more experience under my belt, I'm wiser, stronger, and have had so much time in the gym trying to become the best fighter I can be."
Alvarez (24-3) as been on the sidelines since late last year when his contract with Bellator ended. The UFC ended up making him a contract offer which Bellator claimed they matched. Both sides filed lawsuits against each other and they both agreed to a settlement and Alvarez now returns to the Bellator cage. He now gets the rematch he has been asking for and wants to get his revenge.
"I still lose sleep over my loss to Chandler, and I want it off my record," Alvarez remarked. "This was a long process, but at the end of the day I'm back with Bellator and I'm happy to get back in the cage. I really believe everything happens for a reason, and at the end of the day my family and I are happy, and I'm ready to get my belt back on November 2nd."
Stay tuned for more fight announcements for this upcoming Bellator pay-per-view and the rest of the season nine events which begin on September 7th.