The UFC announced last Saturday night that they would be returning to the Manchester, England on October 26th for a fight card that will air on Fox Sports 2 and the promotion has now announced that tickets will go on sale next week.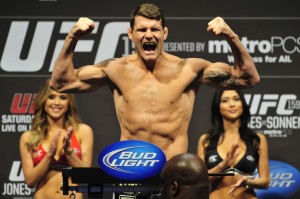 UFC Fight Night: Bisping vs. Munoz will take place from the Phones 4U Arena in Manchester and will be headlined by top middleweight contenders meeting in a five round bout as Michael Bisping faces Mark Munoz.
Tickets for this fight card will go on sale to the public on August 19th at 10 a.m. and tickets are priced £450 (UFC VIP Experience), £225, £175, £125, £100 and £75. Tickets will be available via www.ticketmaster.co.uk and www.phones4uarena.co.uk.
UFC Fight Club members will have an extended exclusive opportunity to purchase tickets to this event from August 12th–16th via the website www.ufcfightclub.com. A special internet ticket pre-sale will be available to UFC newsletter subscribers from 10:00 BST on August 16th. To register for the UFC newsletter or to join UFC Fight Club go to UFC.com.
Bisping (24-5) has won two of his last three fights with the only defeat in that time period coming against top middleweight contender Vitor Belfort. He is coming off a victory over Alan Belcher at UFC 159 and a win over Munoz will put him back into title contention.
"First and foremost I'm thrilled to be back in England, it has been three long years since I last fought at home in front of the people who've supported me my entire career," Bisping said. "I'm really up for this challenge against Munoz. I wanted the best possible opponent and I got him. I respect Mark as an opponent and, on a personal level, he's one of the nicest men you will ever meet, but he's getting beat. I'm sending the British fans home very happy."
Munoz (13-3) is coming off an impressive decision win over Tim Boetsch at UFC 162 and has won five of his last six fights in the UFC. His only lost in his last six fights came against current UFC middleweight champion Chris Weidman last year.
"I know Bisping has never lost in England – but he's about to! I truly believe I will silence the crowd in Manchester," Munoz said. "I've already fought in the UK, when I beat Chris Leben two years ago, so I'm familiar with the jet-lag, the time change, and everything else, so don't feel I'm at any disadvantage. "This is a pivotal fight for both of us. I see this fight as a contender fight. Anderson Silva is the No.1 contender but after he gets his rematch with Chris Weidman I think the winner of this fight with Bisping is next in line. I respect Bisping's cardio and kickboxing, but I'm in great shape too and I think I'll get him with a submission or ground and pound within three rounds."
The current UFC Fight Night: Bisping vs. Munoz card is below and the UFC will be announcing more fights in the coming weeks.
Main Card: (Fox Sports 2)
Michael Bisping (24-5) vs. Mark Munoz (13-3)
Ross Pearson (15-6) vs. Melvin Guillard (31-12-2, 1NC)